A terminally ill Manchester United fan turned red with laughter after meeting one of the funniest men he'd ever met in his life… Louis van Gaal.
Earlier this month MM reported how James McCarthy, 31, from Trafford, was told the brain tumour he had recovered from in 2009 had returned, only this time it was terminal.
Yesterday, the avid United fan was invited to the Aon Training Complex, where he was introduced Louis van Gaal, a man known for authoritarian-style management, and was left flabbergasted by the encounter.
"We went up to meet Louis van Gaal and just had a chat with him," he told MM.
"He was a gentleman, he was really nice. He was dead funny, a really, really funny guy."
It's a far cry from the man dubbed 'The Iron Tulip', a stict disciplinarian known for his ruthless managerial style.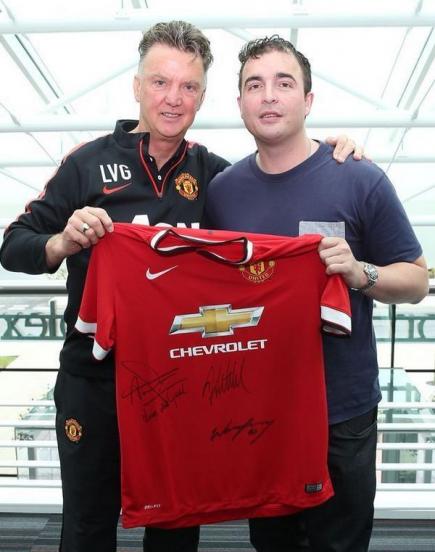 RUTHLESSLY FUNNY: Van Gaal's manner was a far cry from his public persona
 
The youngest of nine children, Van Gaal comes from a strict, military-like upbringing.
His father organised the family along a rigid division of labour, assigning a different task to each child. 
Van Gaal's regimented upbringing is something which has made him so successful as a football manager.
In Van Gaal's systems, every player had a clearly-defined role, with him often referring to them by number.
His 40-year career has been built on fear and respect, but James said he was surprised to meet a jovial character, one completely at odds with his feared reputation.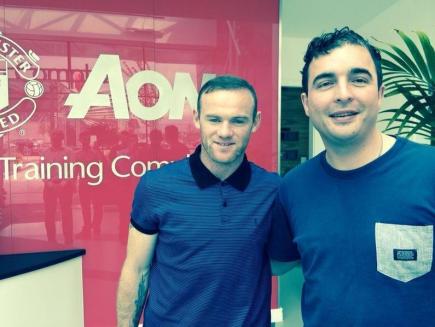 ONCE A BLUE, ALWAYS A RED: James got to meet star striker Wayne Rooney 
 
"Louis was one of the funniest people I've ever met," James said.
"He had a really, really good sense of humour, he was hilarious."
During the visit James also got to meet Wayne Rooney, who signed his class of '92 shirt and his brother's Chevrolet shirt which will be raffled off in aid of the James McCarthy Foundation.
When he delivered the devastating news in September last year, James' family had set about raising funds to help him complete his bucket list, and meeting the Class of '92 was high on the list.
Last week, James was invited to watch the Class of '92 legends Salford F.C., where he met Paul Scholes and Gary Neville, who completed the ice-bucket challenge.
He said: "He's a dead nice, a real laid back guy, him and Gary Neville. They're just both dead nice people."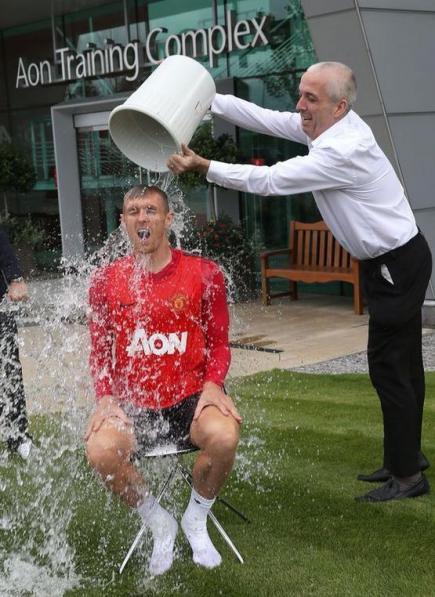 BIT NIPPY: Fletcher took his ice-bucket challenge like a true Scots-man
 
Those who partake in the ice-bucket challenge, an online craze taking the internet by storm, must nominate someone to carry on the chain.
Gary Neville nominated Scholes and he went on to nominate United's newly appointed vie-captain, Darren Fletcher.
In yesterday's visit to the Aon Training Complex, Fletcher reluctantly carried out his duty.
"Fletcher came out, all ready to do the ice-bucket challenge, he said 'I don't know why Scholes has nominated me for this' and he did the challenge willingly," he said.
He added: "Fletcher was one of the nicest people I've ever met in my life. I congratulated him for being the vice-captain. I said 'I know you've been poorly, and you're looking good mate'.
"He's put quite a bit of muscle mass on."
Once the Scot had completed duty, he took little time in making his nomination: Cristiano Ronaldo.
"Words couldn't describe what it would mean to me if I actually met Ronaldo," he told MM.
"If he came and met me or sent me a video doing the ice-bucket challenge that would be brilliant."
Over to you Cristiano.