A Salford man is the next target of the ISIS jihadists who beheaded British hostage David Haines – who were branded as 'evil' this morning by the CEO of a Muslim foundation.
Married father-of-two Alan Henning previously worked as a taxi driver but had been a volunteer on an aid convoy in Syria before he was captured.
A manhunt is underway to track down the hostage after he appeared at the end of the video killing of Mr Haines – implying he could be the next victim.
Aid worker Mr Haines, 44, had been held by captors since March 2013 and his grisly murder was broadcast in a video released on Saturday night.
And now a Manchester-based Muslim broadcaster Mohammed Shafiq, Chief Executive of the Ramadhan Foundation, has slammed the 'barbaric and evil crime'.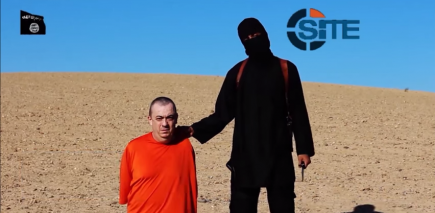 MANHUNT: Special forces are working to establish Mr Henning's whereabouts
He insisted the terrorists do not represent Islamic teachings as David Cameron was issued an ultimatum over Mr Henning.
"I wish to offer my deepest condolences to the family of David Haines who has been murdered by ISIS," said Mr Shafiq.
"This was a barbaric and evil crime and furthermore a crime against all decent people around the world.
"David Haines was a man who spent his life helping others through aid work, his legacy of helping others will live on for generations to come.
"These evil terrorists do not represent Muslims or Islamic teaching, their barbarism is an affront to our faith, indeed the majority of victims of ISIS are fellow Muslims. We will not stop exposing these evil people and stand ready to help the British government in bringing the culprits to justice.
"In the coming days we need to come together as a nation to stand in solidarity with David's family and resolute in our determination to defeat terrorism. Whatever the costs or sacrifices we will defeat terrorism."
Mr Haines' is the latest hostage who appears to have been killed by British terrorist 'Jihadi John' after US journalists James Foley and Steven Sotloff were earlier killed.
The deaths have sparked fears for Mr Henning.
The killings come in retaliation for the US-intervention into the expansion of the Islamic State of Iraq and Levant (ISIL) in Iraq and Syria
World leaders are meeting in Paris today to discuss the international reaction to the threat, with rallying cries from French President Francois Hollande stressing there is 'no time to lose'.
And Mr Shafiq has already pledged support from the Foundation to tackle the security threat – particularly fears from fighters returning to the UK.
"There is real strong worry amongst British Muslims about the ongoing threat from British citizens who have gone out to fight for ISIS will come back and hurt our nation," Mr Shafiq said.
"We stand ready to support the police and intelligence agencies in identifying and bringing to justice those that have carried out these crimes.
"But all our thoughts are with David Haine's family and friends."
In the wake of the release of the ISIL video showing Mr Haines death, the Prime Minister vowed to hunt down his killers.
"The murder of David Haines at the hands of ISIL will not leave Britain to shirk our responsibility with our allies to deal with the threat that this organisation poses. It must strengthen our resolve," he declared," said Mr Cameron in a statement.
"Ultimately our security as a nation, the way we go about our everyday lives in this free and tolerant society that is Britain, has always depended on our readiness to act against those who stand for hatred and who stand for destruction. That is exactly what we will do."
Main image via Facebook, second image courtesy of Al Jezeera via YouTube, with thanks.