An Alderley Edge fundraising fanatic is leading the pack for charity Support Adoption for Pets in the Sunday's Bupa Great Manchester Run.  
Adrian Bates is joining the charity's 127-strong team of dedicated runners – who have raised more than £13,000 in sponsorship – to complete the 10kilometre Manchester event while dressed as the charity's much-loved mascot 'Robbie the dog'.
And the dog lover is sure he is not barking mad to tackle the race in a canine costume – as with Sunday set to be sweltering, he could be in for a 'ruff' time.
Adrian said: "At the start of 2014, I was keen to find a new challenge to tackle.
"When I heard Support Adoption for Pets were looking for people to take part in the Great Manchester Run, I decided that would be my challenge – but only if I could do it in a dog costume!"
He admired the efforts of the charity in assisting local animal rescues and rehoming centres across the country, many of which would struggle greatly to keep up with their duties without the charity's help. 
In the last year, Support Adoption for Pets has raised more than £2.1 million, which has been invested into the support of rehoming centres, allowing them to continue their vital work.
For some, this has meant a very welcome boost to their existing funds, but for many others it represents something even more crucial – a financial lifeline, without which, they would not have been able to continue their life-saving work.
Adrian added: "As a team, we have raised more than £13,000 – which is a great achievement. "We hope to hit the £15,000 mark by the weekend."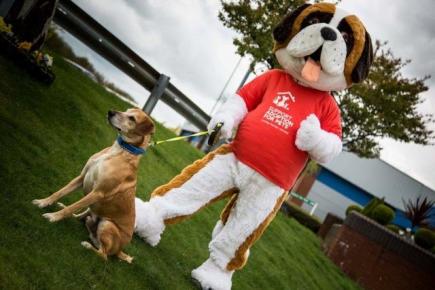 LEAD-ER OF THE PACK: Robbie the Dog aka Adrian Bates
Support Adoption For Pets Charity Manager Amy Wilson sympathised with the runner and said: "My thoughts certainly go out to Adrian who is a brave man for agreeing to tackle the course dressed as Robbie the dog – and I'm sure some of our mascots, such as Humphrey the gerbil, will be on hand to cheer him on his way."
Since its establishment in 2006, Support Adoption for Pets has helped over 920 rehoming centres and animal welfare organisations around the UK, awarding grants and organising fundraising campaigns.
Support Adoption for Pets is the UK's largest grant-giving animal charity and runs a series of dedicated adoption centres and fundraising through Pets at Home's 350 stores nationally.
The charity also runs dedicated adoption centres for small animals to assist animals in achieving their second chance at true happiness.
If you love animals as much as Support Adoption for Pets do and want to get involved in supporting the charity, visit their website.
To discover more about how you can donate to the Support Adoption for Pets team, visit their JustGiving page.