A Manchester hospital worker who was diagnosed with breast cancer has urged Brits to get out their barbie for this weekend's BBQ fund-raising campaign.
Cancer Research UK is encouraging Brits to host their own 'BBQ to Beat Cancer' for an afternoon of sun, fun and food, in exchange for a donation towards the charity.
With Brits grilling more than anywhere else in Europe – hosting a whopping 120 million BBQs a year – the stage is set for the biggest sizzling summer fundraising weekend the nation's seen.
Mother-of-one, Sharon Quennell, was diagnosed with breast cancer in 2000 at the age of 36 after noticing a lump on her left breast.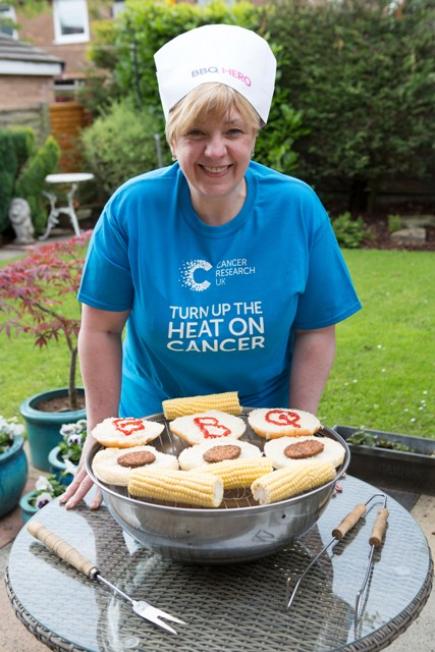 GRILLED: Sharon has since made a strong recovery since being diagnosed two years ago
 
Ms Quennell said: "BBQ-ers across the North West can cook up some cash for Cancer Research UK and help the charity bring forward the day when all cancers are cured.
"It's time to rally friends, family, work colleagues and neighbours and tell cancer to burger off!"
The 50-year-old, who works at North Manchester General Hospital, was diagnosed just two years after her mum, Audrey, had been diagnosed and successfully treated for the disease.
Sharon underwent surgery followed by 12 weeks of chemotherapy treatment and has since made a strong recovery.
Hundreds more supporters have joined Sharon in organising their own barbie and contributing to Cancer Research UK's lifesaving work.
A mother from Bolton proved how successful the fundraiser can be by raising over £500 at her BBQ earlier this month.
New total for @CR_UK for our #BBQ4CRUK is £572 #burgeroffcancer #amazing #lovemyneighbours

— clair beswick (@clairbeswick) July 14, 2014
Supporters are sharing their successes over Facebook and Twitter using the hashtags #BBQ4CRUK and #burgeroffcancer, as well as helping to spread awareness for the cause.
Give cancer a grilling! Sign-up to host a BBQ for @CR_UK on July 19-20, invite your friends and ask them to RSVP with a donation. #BBQ4CRUK

— CRUK Kent (@FundraisingKent) July 12, 2014
Mrs Bullock added: "Our aim is that one day everyone will beat this devastating disease and the more research we fund, the sooner that day will come."
Cancer Research UK is world leading cancer charity and has been at the heart of the progress that has already seen survival rates in the UK double in the past 40 years.
The charity are offering supporters a free BBQ pack which contains everything needed to plan their perfect BBQ, including an exclusive 'BBQ Hero' chef's hat, recipe ideas, decorations, and posters.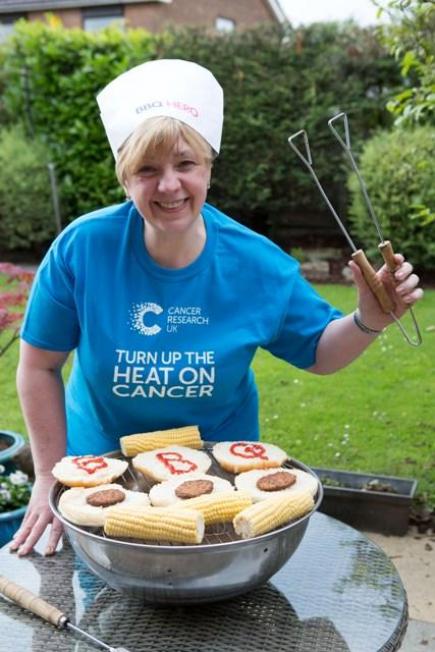 MEATY: Sharon is hoping to douse the flames of cancer
 
Other similarly summery ways the organisation are gathering benefactors include awarding participants with a 'BBQ Hero badge' and holding a competition to win a shiny new BBQ.
Many of the 'BBQ heroes' are among the 1 in 3 people in the UK who have experienced first-hand the devastation of cancer.
Jane Bullock, Cancer Research UK spokesperson for the North West said: "We know that folk will be getting out their BBQs come rain or shine, so it's the perfect opportunity to join forces with grillers right across the UK in raising money for a worthwhile cause.
"It's not about gourmet grub or manicured gardens – it's about chicken wings, ketchup and good times! We're inviting men and women to join a nation of BBQ'ers getting fired up in the fight against cancer."
To become a BBQ hero and host your own 'BBQ to Beat Cancer', sign up here.