A brave cancer patient, who spent months enduring harsh chemotherapy, had something to smile about when he was 'magicked' away to Disneyland.
Hayden Whitbread, eight, from Denton, was whisked to Paris with his parents and siblings by Round Table Children's Wish charity, earlier this month. 
The youngster was diagnosed with a Wilms' tumour in 2012, a rare kidney cancer which only affects around 70 children a year in the UK, and has since had his right kidney removedd. 
Hayden's dad Steve said: "The whole family has been through a terrible time. But after all those months of treatment, and so many tears and worry, the Disney trip could not have come at a more perfect time for Hayden and his brothers and sister.
"It was so special to see all the children's faces light up when we reached the Disney hotel and they were in awe as we entered Disneyland. 
"Hayden especially enjoyed the Lilo & Stitch Show and being able to use his VIP pass for the rides. He was reluctant to use it at first, but by the end of our stay he used it like a police ID badge.
"We really can't thank Round Table Children's Wish enough for sending us there. It was something we would never have been able to do without their support, planning and financial help and without all the people who donate to make the wishes possible."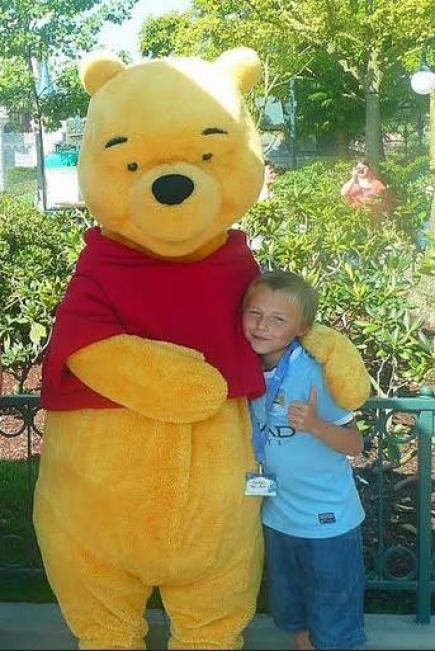 DREAMS COME POOH! Hayden gives a thumbs up at Disneyland with Winnie 
The 8-year-old was diagnosed in June 2012 on a family holiday in Wales where his parents noticed a strange swelling on his side. 
Hayden was sent for tests at Manchester Children's Hospital and mum Joanne and the family admitted that seeing the other children with no hair and on drips completely 'knocked us for six.'
Shortly after starting a course of harsh chemotherapy the family was informed the devastating, stage 4 tumour, had spread to his lungs.
Hayden was given the all clear for cancer on March 25 2013, but radiotherapy has affected his height and he was diagnosed with alopecia earlier this year.
However Steve says the family of eight are 'stronger than ever' and are 'looking at the future in a positive way'.
Round Table Children's Wish has been dedicated to making dreams come true for children aged four to 17 with life threatening illnesses since its establishment in 1990.
Along with holidays and mini breaks the charity has also provided sick children with shopping sprees, opportunities to swim with dolphins and set up meetings with sports heroes. 
Cathy White from Round Table Children's Wish told MM: "Hayden has faced his cancer treatment with such courage and with the incredible strength and support of his family. 
 "Providing them with this much deserved break is what Round Table Children's Wish does best and we hope more people will come forward and support us so we can grant even more wishes for children like Hayden."
For more information about the Round Table Children's Wish, click here.
Image courtesy of Joe Penniston, with thanks