Volunteers at a homelessness charity in Bolton have provided more than 20,000 food packs to vulnerable households in the four months from April to July.
Lucie's Pantry, run by Emmaus Bolton out of its Derby Barracks base, is run by 12 local volunteers and formerly homeless people.
The volunteer team worked together throughout lockdown to ensure the service continued and demand was met.
One of the volunteers, Martin Sweeney, said: "The pantry is a vital resource for some of the most impoverished members of the Bolton community – for many it is a lifeline."
Lucie's Pantry opened in 2018 to support local households in need.
The pantry supplies a wide range of food including fresh fruit and vegetables, chilled and frozen goods, tinned food, cereals, pasta and dairy items.
Members of the pantry usually pay a weekly membership of £2.50 and receive £25 worth of food.
At the start of lockdown, the community decided to waive the membership fees as an act of solidarity.
Tony Stephenson, Director of Emmaus Bolton, said it's been a busy few months, but he's extremely proud of the efforts of volunteers.
He said: "I would like to give huge thanks to our dedicated team of volunteers and all the organisations and individuals who support Lucie's Pantry."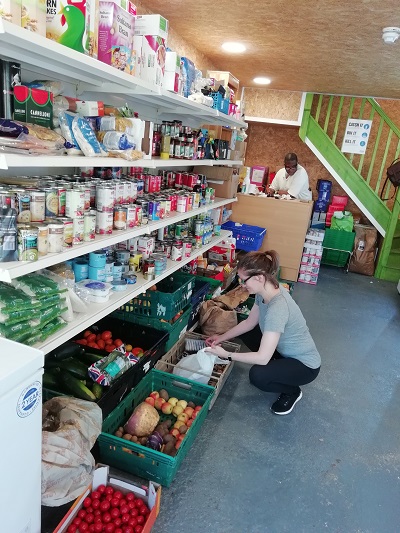 All stock is sourced from FareShare Greater Manchester and donated by local supermarkets and individuals.
Food poverty has shot up on the global agenda since the Covid-19 pandemic hit.
Last week, the World Food Programme was awarded the Nobel Peace Prize for its efforts to combat hunger worldwide.
England and Manchester United football Marcus Rashford has spearheaded a campaign to tackle child food poverty in the UK.
For more information about Emmaus Bolton and Lucie's Pantry, head to www.emmaus.org.uk/bolton.
For more information on FareShare, visit www.fareshare.org.uk