The call for a referendum over Manchester's devolution agreement has been underlined by a survey that showed nine out of ten people believed it shouldn't go ahead without a public vote.
The Greater Manchester Referendum Campaign found that 80% of people they questioned in the city's Crumpsall ward had no idea about the devolution plans being imposed by the council.
And the shocking results of a survey carried out only two days ago revealed that 88% of people questioned in Oldham's Failsworth East ward hadn't heard of 'Devo-Manc'.
A further 96% believed that the scheme should not be imposed without any form of public scrutiny or consultation.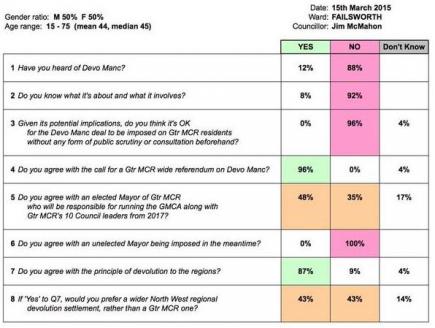 A spokesman from GMRC said: "Our results confirm once again that the vast majority of people have little if any knowledge of the Greater Manchester Devolution Agreement, let alone what it actually involves.
"Despite generally being in favour of devolution in principle, once the public find out more about it, they are overwhelmingly against 'Devo Manc' being imposed on them and overwhelmingly support our call for a referendum.
"Even though more of those sampled in Failsworth East agreed with the idea of an elected Mayor, few, in today's case no one, agrees with the imposition of an unelected Mayor until 2017 or later."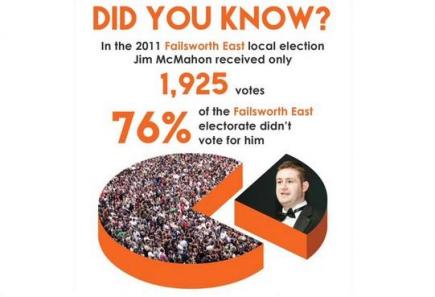 The devolution plans promise Greater Manchester its own directly-elected mayor and £1billion worth of discretion over transport, housing, planning and policing in return.
GMRC believed that the survey highlighted the motives of council leaders, who are attempting to 'fast-track' a 'dodgy' deal to an unknowing public.
Results from yesterday's sampling #VoteOnDevoManc #FailsworthEast https://t.co/bmrofu8pCS pic.twitter.com/BMGhxzFd0K

— Occupy Manchester (@OccupyMCR) March 16, 2015
Stephen Hall, President at Greater Manchester Association of Trades Union Councils, told MM last month that a referendum was sorely needed.
"Most people don't have a clue what [Devo-Manc] is and have never heard of it," he said.
"It has been covered in the media obviously, but ordinary people haven't received any information or been told what's happening.
"They've [the council] told us devolution is being imposed and we're not getting any say in it – which I think is scandalous.
"We just want a right to have a say. If it's such a good deal, what is the council worrying about putting it to people for?"
Image courtesy of Stacey MacNaught via FlickR, with thanks.