A Manchester activist has warned that the Transatlantic Trade and Investment Partnership (TTIP) will mean the 'knackering [of] democracy', as Global Justice leads a campaign in the city against it.
Over 500 Mancunians have signed their petition to stop Manchester from having any link to TTIP after Global Justice's latest stall at the Mechanics' Institute gathered more supporters.
TTIP is a free-trade deal that will reduce regulatory barriers to trade for big businesses in the EU and USA.
But Stephen Pennells, a member of Global Justice, believes this could lead to a 'corporate takeover', and the petition calls for Manchester City Council to publicise their concerns about its proposals.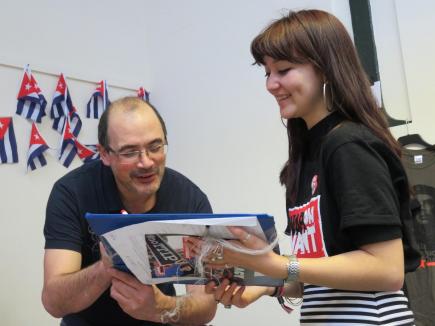 KNACKERING OF DEMOCRACY: Hundeds of Mancunians signed a petition against TTIP
"Even if there were good use for it, because fundamentally it's a stitch up, we don't think we should have anything to do with it," he told MM.
Brian Hepworth, another Global Justice member, explained: "TTIP is the biggest, most important political thing that has happened in my lifetime, and I'm 65.
"It will sweep away everything the common people and working class movements have achieved in the last 200 years – democracy, labour and consumer rights, high quality food, sustainable farming and much else."
The petition was set up by Global Justice Manchester three weeks ago, but the group has been raising awareness of the issue for almost 15 months, performing a flash-mob at the Arndale in 2015, collecting signatures on the streets and also running various stalls to gain more support.
So far, although TTIP has had very limited media exposure in the UK, nearly 3.3 million people across Europe have signed an international petition to stop TTIP being passed between these trading giants – but to no avail.
Explaining TTIP and its impact, Stephen said: "You could play football in different codes – rugby league, Australian rules, Football Association.
"Or you can play football with the rules you make down a back alley. 150 years ago it was all about the rules down the back alley and fundamentally there weren't rules.
"Once the Football Association gets established and sets up the rules, if you want to play soccer the rules are the same whether you're playing on an island in the Pacific or playing it at Old Trafford or at Wembley.
"And if you are a new entrant you can't write the rules.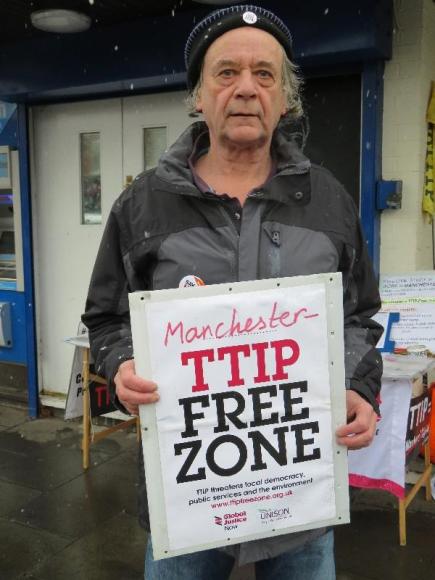 BIGGEST THING IN MY LIFETIME: Brian Hepworth said that the deal will undermine the working classes
"So when the rules are set internationally and globally, as TTIP sets out to do, little players don't get any chance, they don't get any say."
Stephen added that it's 'fundamental' that the agreement is not passed because 'as a headline topic to tackle… it scores on virtually every goal'.
And while the issue is one that has global implications, he explained that many in Manchester would be hit hard.
He said: "In Manchester, I would say small businesses [will be affected most].
"The people who will gain will be corporate lawyers and transnational corporations, most of whom will maximise their tax dodging."
Passing TTIP is likely to result in the re-introduction of GM foods – currently prohibited by the EU – as well as fracking and could pose a threat to worker's rights.
The NHS could be in the firing line along with UK banking regulations, data privacy laws and democracy itself, with some believing it will cause a loss of up to one million jobs across the EU and US.
Stephen said: "It's a question of disempowering the city council.
"Whatever the ins and outs of Devo Manc and the Northern Powerhouse, the Northern Powerhouse is meant to have the ability to do good, and it's not unreasonable for it to look to bring jobs and provide work for people in Greater Manchester.
"If it is inhibited from doing that because any old corporation can say 'no', then what's the point?
"Are we just going to discuss what colour we can paint the walls inside the city library?"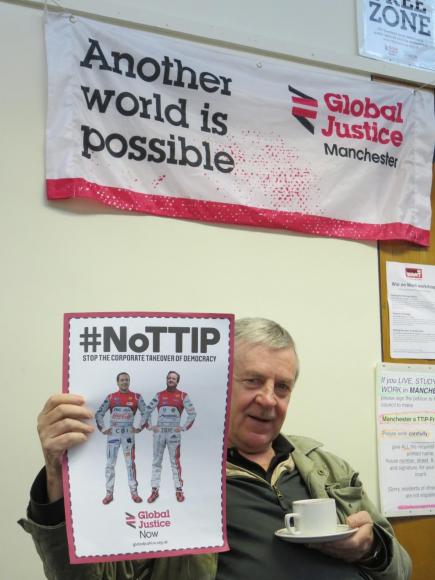 NO TTIP: Few are aware of the implications of the 'muddy' trade deal
But everything about the deal is shrouded in secrecy with Stephen admitting that 'the waters are so muddy, and there's so much assertion and counter assertion'.
There is concern that the European Commission is trying to secure TTIP before the American election on November 8 and it is likely that it will remain in place here even if the UK votes for Brexit.
But the deal is not something that Global Justice are willing to accept without a fight.
"We're starting to lobby our councillors because we need to get them on board," he said.
"The vibe has been picked up that they will be very sympathetic to getting a mandate to pass such a motion.
"It's a ripple up effect really – to get the council to express their severe concerns [to people in the Parliamentary Labour party].
"If we were to get Manchester [on board], because of the Northern Powerhouse, it will be a major coup.
"If it wasn't for the Piccadilly Gardens petition, we would be blowing everything out of the water on the council website. We would be in poll position!
"So we have high hopes."
Global Justice Manchester are hoping to get 4,000 signatures for the petition but can only accept names of people who live, work or study in Manchester.
The group have been working alongside other organisations including campaign group 38 Degrees, and War on Want, an international poverty charity.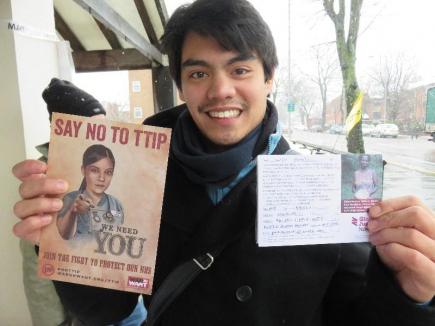 WE NEED YOU: Global Justice are taking the fight to TTIP
Councils across the country, including Birmingham, Newcastle, Oldham and Bury, have already passed motions to make their cities TTIP-Free.
Manchester's petition calls for the council to write to the local government association to raise their concerns with the government, to join with other local authorities opposed to TTIP, and to 'work with local campaigners to raise awareness about the problems of TTIP and similar trade deals'.
Discussions on TTIP have been taking place for over two years and the anti-TTIP campaigns across Europe have been gathering speed in the last 18 months.
But there is an 'alternative vision'.
Stephen said: "There is a movement towards something called the Alternative Trade Mandate.
"It's a worthy initiative that was launched about two years ago by the great and the good who saw this devil coming and wanted to have something positive.
"The Alternative Trade Mandate is a private manifesto type thing – this is what we suggest, this is a basis that we think we would support trade on.
"So it's done with a vision that the economic neo-liberal consensus of capitalism isn't the only language that anyone can conceive of."