A Wigan teenager is getting ready to jet off to Nepal – but not for a holiday.
Ciara Rotherham, 18, is flying to Nepal later this month to help work towards improving the sexual and reproductive health issues that the country faces.
In order to raise cash towards the Voluntary Services Overseas (VSO) so that more people can take part in helping out, Ciara braved a skydive for charity on Sunday, raising a total of £550.
"The skydive was amazing," Ciara said.  "I had to wait nine hours because of the weather, though – typical!
"But it was a fantastic experience and I'm glad I was able to do it since I was able to raise money for such an important cause."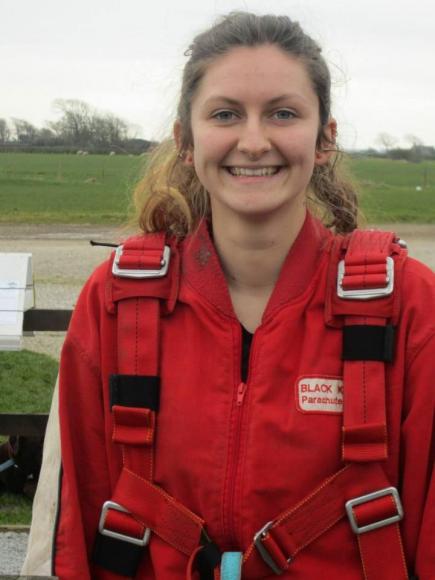 PUTTING ON A BRAVE FACE: Ciara ahead of the skydive
She decided that VSO was 'the programme for her' when she found out how seriously they take their volunteer work, which she heard about through International Citizen Service (ICS).
ICS advertise their volunteer programme, they state: "This is not a holiday and conditions are usually basic."
But this was exactly what Ciara wanted.
"I saw it as such a fantastic opportunity because they take the work they do overseas very seriously, and it's clear it's not just a voluntary placement where young people go to have fun," she said.
Widespread gender discrimination in Nepal has left many women to suffer reproductive health problems, according to a recent Amnesty International campaign. Around 10% of the female population suffer from uterine prolapse.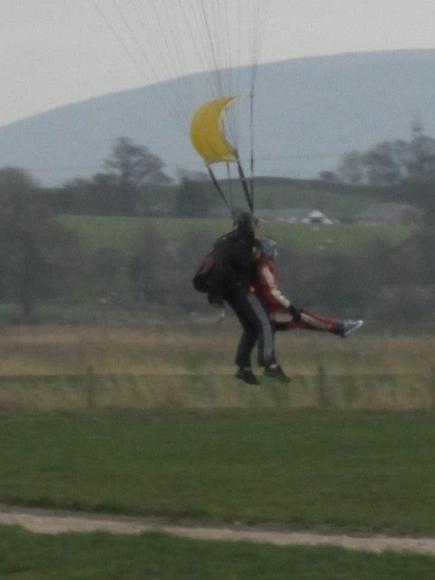 TOUCHDOWN! Ciara makes it back down to earth
HIV awareness and testing among Nepalese young people is relatively uncommon, leaving them vulnerable infections.
In Nepal, one in six girls aged 15-19 were pregnant or had already given birth to at least one child according to a 2011 study.
Ciara will be part of the first volunteer group to work in that area of Nepal, and the people she's going to work with won't have access to much education.
She feels it is important to make sure they are aware of the importance of their health.
"I am quite passionate about people knowing their rights within relationships and also general health," she said.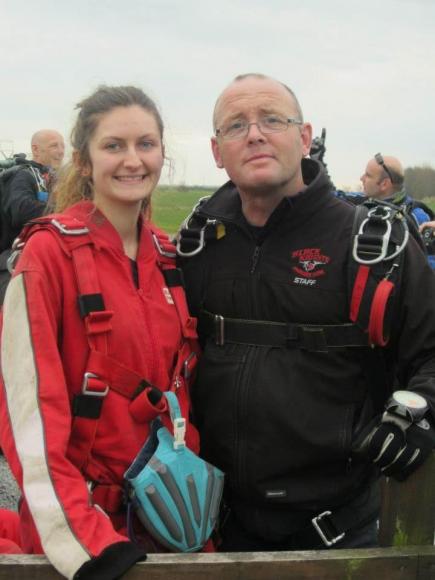 HELP AT HAND: Ciara with her skydive partner
"I think it is really important that people know about the risk of HIV, that people are aware what it actually is and how it's transmitted."
Ciara already has experience volunteering overseas, having travelled to Tanzania and Kenya during September 2013.
"I really want to contribute positively to other people's lives," she said.
Ciara is very happy that this time she is being sent to Nepal, which was one of her first choices when she applied.
Although she will be jetting off principally to do charity work, she also chose to work in Nepal out of personal interest.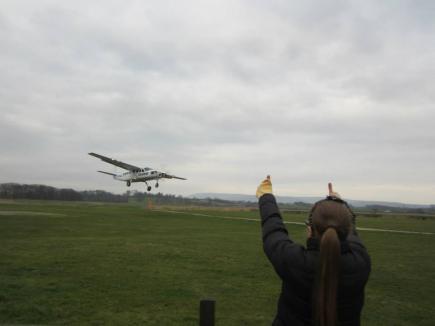 TAKE-OFF: Ciara takes to the skies as she embarks on her sky dive
 
"I chose Nepal as I am extremely interested in religion," said Ciara.
"I am fascinated by the different beliefs of people and the way religion can completely change their way of life."
Religion in Nepal forms a massive part of everyday life.
"I already knew that Nepal had a huge population of Buddhists as well as Hindus," she said.
"I thought that living there for three months would be such a wonderful insight into the way religious people lead their lives in Nepal.
"In addition to this, I find that countries like Nepal are so rich in culture, especially as you travel further away from the mainstream areas, and I really want to experience the 'real' Nepal."
Ciara needs to raise £800 to meet the minimum target set for her by VSO, so her charity skydive was just the beginning.
A charity bake sale is already planned for March 17, which Ciara hopes will make up the difference.
The waitress is also required to fundraise for VSO for six months once she gets back from Nepal.
The aim of the fundraising, as well as raising money for VSO, is to raise awareness of the charity and what it does for people in developing countries.
Ciara said: "I think it's really important to raise awareness about VSO as a lot of people I've spoken to didn't realise it's an actual charity."
The money Ciara raises does not go towards her own trip – it goes towards funding the programmes and getting as many volunteers to take part as possible.
To sponsor Ciara Rotherham or give to VSO, visit her JustGiving page here: http://www.justgiving.com/Ciara-Rotherham