A crowdfunding bid has been launched to raise £17,950 for an iconic Manchester sculpture damaged by vandals.
The artwork, called At the End of the Day, has been enjoyed by generations of locals in Irlam for 40 years, but has since been dented and moved to save storage after miscreants tore off its leg in 2017.
The full-scale replica of a man in a flat cap relaxing on a bench was restored in 2016 and took pride of place on a platform at the refurbished Irlam Station House, where it gained a new audience of admirers – many keen to take a selfie with it.  
Thought to represent an exhausted shift-worker from the town's now-defunct steelworks, it has come to symbolise the regeneration of Station House from a run-down building to a vibrant community hub.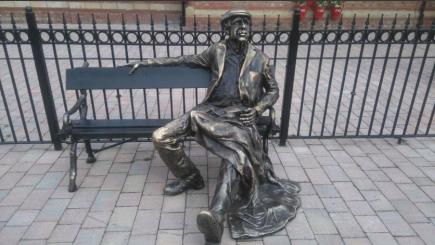 ICONIC: The sculpture has been around for four decades
Campaigners want to mark its 40th anniversary by raising enough money to recreate it in bronze before restoring it to its rightful place at Station House.
In 1978, the 15-year-old aspiring sculptor Simon Law created At the End of the Day for his O-Level art exam using clay, plaster of Paris, mesh and cloth, with a metallic paint coating finish.
Simon, now a senior design manager for John Sisk and Son, said: "I was very pleased with the way the sculpture came out, but I never expected it to be around for 40 years.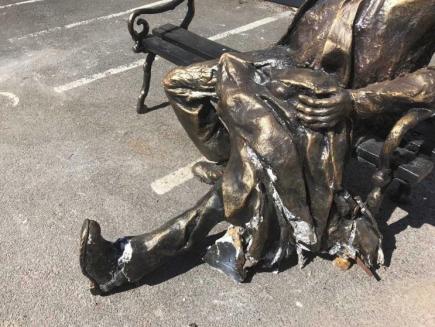 TARGETED: Miscreants removed the leg in 2017
"I was devastated when I heard what the vandals had done to it. If we can recast it into bronze and make him more robust, that would be astounding."
The sculpture – known locally as The Man on the Bench – was on display at Irlam High for many years before being rehoused due to school refurbishments.
Irlam charity the Hamilton Davies Trust (HDT) became guardians of the statue and funded its restoration in a project which took over 140 hours. It then found its home at Irlam Station.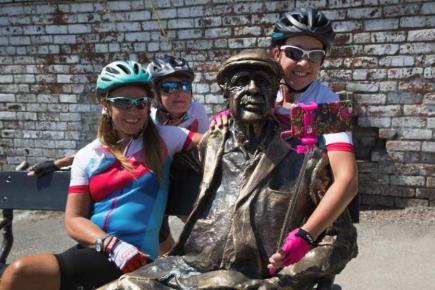 SELFIES: The sculpture is very popular in the local area
HDT is leading a new appeal to make the sculpture stronger than ever and it has submitted a funding request to the Arts Council.
Mandy Coleman, Consultant General Manager of HDT, said: "At the End of the Day is an incredible piece of art. It looks like it was created by a professional artist, rather than a schoolboy.
"Generations of local people have loved it and then it got a whole new fan club at the Station House. It has become a symbol of both Irlam's past and how the area is being regenerated. To mark its birthday, we want to recast it in bronze so it will survive for years to come."
*You can donate to the cause HERE