The BBC and Greater Manchester Combined Authority have launched campaigns to help those who are digitally excluded to enable them to continue their education throughout the lockdown.
Statistics from the GMCA have found less than half of young learners who need a device in the city region have been supported so far.
Despite the Department for Education's national programme to provide devices to those who are digitally excluded, the GMCA have estimated this will still leave 15-20,000 people in the area without the tools they need to continue online learning.
The GMCA campaign is calling for businesses to donate to the Greater Manchester Technology Fund, which is part of the Young Person's Guarantee for Greater Manchester, set up in June 2020 aiming to protect and progress young people's futures.
Organisations including, ANS Group, Auto Trader and Arup Group have already pledged financial donations and the donation of the data packages and technology needed for young people to continue their learning from home.
A donation of £300 can purchase a complete digital kit and data package bundle for a young person in Greater Manchester, which would include internet access and a laptop or tablet.
Businesses can also donate data packages, devices or unused working devices that can be repurposed.
Diane Modahl, Chair of Greater Manchester's Youth Task Force, said: "Young people themselves told us about their anxieties over keeping connected digitally, ranging from concerns over accessing resources for schoolwork, keeping in touch with their school friends or the ability to be connected to future employers.
"Those young people in our city-region who do not have easy access to these opportunities face being marginalised and at a disadvantage to their peers."
Mayor of Greater Manchester, Andy Burnham, said: "With this new national lockdown we risk turning the problem of digital exclusion into lost education and opportunity for our poorest and most vulnerable young people.
"Throughout this pandemic our business community has stepped up to support the most vulnerable in our community and this project is a chance for others to make sure that no young person in Greater Manchester is left behind.
"I'm proud of those businesses who have already come forward and I hope others will too."
The BBC has also set up a Make a Difference: Give a Laptop campaign with it's 39 local radio stations asking for listeners and businesses to donate unused devices to specialist charities so that they can be safely wiped and distributed to local schools.
After just a week of the campaign launch the BBC have received nearly 5,000 devices and £30,000 in financial donations, with a further 20,000 devices being pledged by businesses in the coming weeks.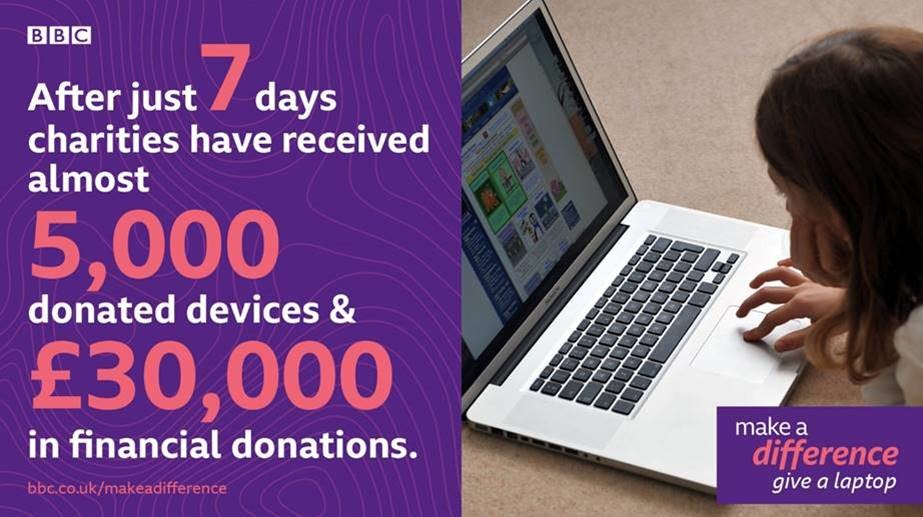 Chris Burns, Head of Local Radio comments: "It's great to see our listeners responding to our call to action.
"At this challenging time, our listeners are once again showing that community spirit is alive and well."
To support the GMCA fund please visit: www.greatermanchester-ca.gov.uk/GMTF
To donate a device to the BBC you can visit www.bbc.co.uk/programmes/articles/5SqHJMTKZx5sYhlltXJvB1Q/give-a-laptop or listen to your local BBC Radio station via your radio, smart device or using the BBC Sounds app.
Main photo credit: Unsplash