Angry members of the Green Party gathered outside Piccadilly Station yesterday in a bid to show commuters how  damaging the £50billion HS2 train investment will be.
HS2, high speed travel, has proposed to connect the north and south in record times, knocking an hour off the journey from Manchester to London from two hours ten minutes down to one hour ten minutes. 
However the plans have met opposition, not least from the Green Party. Their new report Transport for the common good: a better deal for the North West  launched yesterday and branded HS2 a 'government vanity project'.
Lead Green Party European election candidate Peter Cranie, 41, told MM: "It is ridiculous that big cities in the north are not connected; public money needs to be used to create a public service, not one aimed at a minority of the population." 
He continued: "Investments need to be made into our existing train services, so that they are not overcrowded, comfortable, have working toilets and are connected to more areas."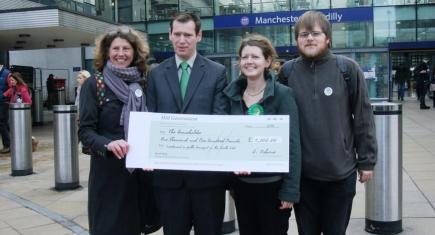 The HS2 service plans to connect all major cities, making long distance travel easier. The cities include London, Sheffield, Leeds, York, Newcastle, Birmingham, Manchester, Preston, Liverpool, Glasgow, and Edinburgh.
Focussing on cities means that this service will not be used by commuters outside of these large stations.
Laura Bannister, 28, from Whalley Range, is also a European election candidate for the Green party.
She said: "No-one will realistically be able to use these trains because they are not aimed at ordinary people. HS2 are working on the assumption that people have an income of £70,000p/a.
"It is completely the wrong type of investment. We want transport that everyone can afford and use."
North West Greens are proposing that the plans for the HS2 service be scrapped and that money is instead invested in creating better services for the public who are fitting the bill.
In the report released yesterday, the Green Party propose that the main changes for a better North West service should include an Otter card similar to London's Oyster card, more investment in the regions local railways and for railways to be returned to public ownership instead of private profit.
The HS2 website states: "The new network will see millions of air and road trips move to rail, reducing carbon emissions and congestion…The space it will create for freight will more hundreds of HGV's off the road. It will also create lots of new jobs."
Gina Dowding, 51, is also a lead European election candidate for the Green Party.
She said: "The HS2 trains aren't intended for HGV's. None of this is backed up by evidence. We have studied Europe's rail systems and it doesn't move people off the roads."
In 2012 transport was responsible for twenty one per cent of UK greenhouse gas emissions.
Mr Cranie also said that better rail service would help decrease climate change.
"We're currently seeing the devastating impact of extreme weather, caused by climate change, and we urgently need to reduce road traffic which causes these damaging emissions," he said.
Their report comes at a time when plans to continue the HS2 involvement are also opposed by other parties.
The Observer reported that 'MPs from all three main parties have suggested that part of the £50bn earmarked for HS2 should be spent on public railways'.
Laura Bannister said: "25% of adults don't drive thus rely on public services. When public services become privatised, the public are not catered to.
"Private investors have no obligation to tell you where the money goes unlike a public service that's intention is to help.
During the demonstration at Piccadilly, Gina Dowding was optimistic. She said: "We're getting a lot of support from transport goers."
Commuters at Manchester's Piccadilly Station saw Green Party campaigners holding large cheques for £1,500 – the amount that they say HS2 will cost every household in the North West.
Peter Cranie said: "The spending has already started. The preparation such as site analysis and planning procedures has already used £300-500million. We think that this money should be spent on things that will benefit the majority of the public such as flood defences."
Each cheque featured Green Party recommendations for greater investment in regional public transport. Party members asked travellers at Piccadilly how they would prefer to spend their share of the HS2 budget – with many agreeing that rail prices are too high.  
Next week Green Party MP, Caroline Lucas' bill to bring the railways back into public ownership will have its second reading in the House of Commons. 
Jake Welsh, 26, also from Manchester, said: "I am not overly confident that the right thing will be voted for but we are hopeful that people will listen."
The demonstration was stopped by guards from Manchester Piccadilly station who did not want to comment on the HS2 service.