Three football fanatics from Manchester have raised more than £2,500 for charity after completing a whistle-stop tour of all 92 Football League grounds in under 92 hours.
Kristian Hunt, Alan Aspden and Luke Walker – who all work for audio branding firm PHMG – took on the football-themed endurance test in aid of Manchester-based charity Once Upon a Smile, covering 2,300 miles – equivalent to the distance between Manchester and Moscow.
They kicked off the challenge at The Alexandra Stadium, home to League Two club Crewe Alexandra, and completed their goal at Old Trafford, just half a mile from PHMG headquarters.
The three-man team travelled as far south as Plymouth Argyle's Home Park and as far north as St James' Park, the home of Newcastle United.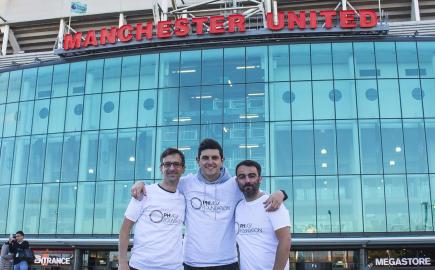 FINISHING LINE: Kristian, Luke and Alan completed their gruelling challenge at Old Trafford
Mr Hunt, who is Client Services Director at PHMG said: "It was a tough task as we had to keep travelling almost continuously throughout the 92 hours, grabbing sleep when we could while someone else was driving.
"But, as football fans, it seemed like the ideal opportunity for us to raise money for such a worthy cause. We are all impressed by the great work done by Once Upon a Smile and wanted to do our bit to help."
PHMG has already held several fundraising events in aid of Once Upon a Smile this year through the company's official charity the PHMG Foundation. These included a football match where a team from PHMG took on the Once Upon a Smile all-stars, including Owen Coyle, Cell Spellman and Jake Quickenden.
The PHMG Foundation has already raised £26,000 for a series of good causes throughout 2016 and is working towards a target of £30,000 by the end of the year, which will be matched by an equivalent donation from PHMG.