Happy Mondays legend Bez is auctioning off a set of framed maracas in a bid to help a struggling centre for vulnerable girls.
The musician – who was raised in Bolton and Salford – has generously donated the signed instruments to Stockport-based charity Retrak.
Now available on eBay, it is hoped that the maracas will fetch enough money to keep open the Bulamu Girls Transition Centre in Kampala, Uganda.
The centre – which provides a safe place for young women – is currently facing closure due to lack of funding.
Speaking about his reason for fundraising, Bez said: "The work the charity does is fantastic and has a real impact on the lives of children in these countries.
"I am hoping the sale of the maracas raises enough money to 'smash' the £16,500 target to keep the centre open."
The auction is sure to be a hotly-contested affair as Bez's fans vie to get their hands on the pieces of music memorabilia that were once used on stage.
As well, the lucky winner will be able to meet Bez in person as he's agreed to personally hand over the maracas to the highest bidder.
Earlier this week, Bez, 55, officially parted with the instruments as he handed them to former Greater Manchester Police Chief Constable Peter Fahy.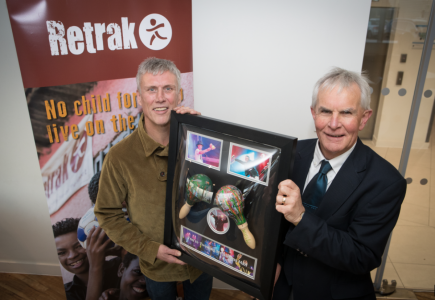 CHARITY: Sir Peter Fahy glady accepted the generous donation
Sir Peter is also involved in the fundraising efforts after becoming the Chief Executive of Retrak in 2015.
Thanking Bez for getting involved in the campaign, Sir Peter said: "We are extremely grateful to Bez for the donation and are confident there will be lots of Happy Mondays' fans bidding to get their hands on the framed maracas.
"With the funds we raise from this auction, we will hopefully be able to maintain the running of the Bulamu Centre and help many more vulnerable young women in Uganda."
The Bulamu Girls Transition Centre aims to ensure that no young woman should have to sleep on the streets of Kampala, Uganda.
As well as providing a roof for the girls, it also offers them access to education, medical care and counselling sessions.
The only alternative would be to stay in police cells if the centre ceased to exist.
You can bid on Bez's framed maracas here.