Animal charity People for the Ethical Treatment of Animals (PETA) have launched a Manchester Meat is Murder art campaign to coincide with Manchester music legend Morrissey's 55th birthday.
The 'clean advertising' campaign will clean the grime from the city's streets and use stencils to leave the message 'Meat is Still Murder' in its place – a reference to the iconic Smiths record that turns 30 next year.
The singer and long-time PETA supporter turns 55 on May 22, which also falls during National Vegetarian Week, and the charity has already used the stencils at 20 locations around the city.
"We're certain that Moz will be delighted by our effort to clean up Manchester's dirty pavements with our 'Meat Is Still Murder' message," says PETA Associate Director Mimi Bekhechi.
"Morrissey's commitment to speaking up for animals is the real Light That Never Goes Out, and we look forward to celebrating his birthday for many more years to come."
Over in the US, Morrissey has also teamed up with PETA's American branch to produce an animated video scored by his 1992 song I Know It's Gonna Happen Someday.
The film follows a chicken's journey from new hatchling to nugget in an attempt to further Morrissey and PETA's pro-vegetarian cause stateside
PETA's Person of the Year in 2011, Morrissey recently donated the only signed copy of his hardback autobiography to be auctioned off, raising £8,300 for the charity.
He also donated a £10,000 settlement to PETA's campaign against foie gras – a settlement reached after Channel 4 used a song by The Smiths without permission in ads for a show starring foie gras–loving chef Gordon Ramsay.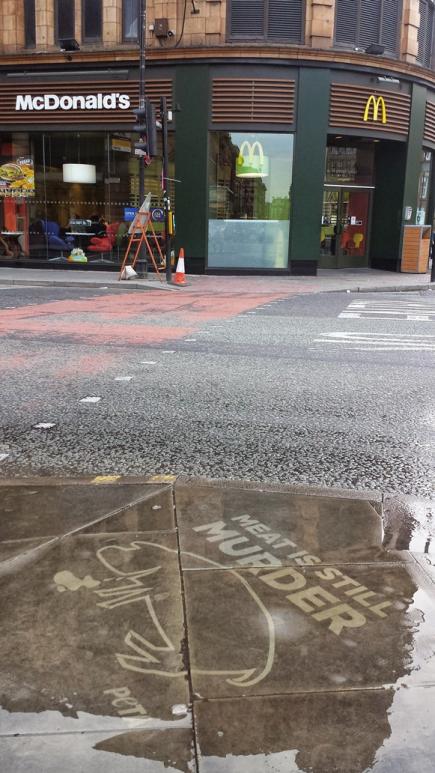 HOW SOON IS COW? PETA posted a stencil outside a branch of fast food restaurant McDonald's
Moz also posed with a cat on his head for a famous PETA campaign to promote spaying and neutering companion animals.
Morrissey is part of a long list of music legends – including former Beatle Paul McCartney, American rockers Chrissie Hynde, Joan Jett and music mogul Russell Simmons – who promote a healthy and humane vegetarian diet.
For more information, visit PETA.org.uk.