Manchester's Green Party candidate has said that if membership for the party continues to grow at its current rate, they will be 'likely' to overtake Ukip.
Kieran Turner-Dave, Green Party candidate for Manchester Central, made the comments in an interview with MM ahead of the 2015 election, saying his party has big ambitions.
He believes that the public has been left frustrated by Westminster's 'big three' over the past four years and that a more relatable party is needed.
Mr Turner-Dave said: "If Green Party membership across the UK keeps surging ahead at its current rate, we're likely to overtake Ukip and the Lib Dems within the next year.
"We're ordinary people that don't have millionaire backers or safe seats, but are still out campaigning for the common good."
The opinion from Mr Turner-Dave comes off the back of the results from an online poll that showed – based purely on policy – that the Greens are the most popular political party in the United Kingdom as well as all three of Manchester's constituencies.
The poll, run by Vote for Policies, compared six UK political parties including the 'big three', Ukip, the BNP and the Greens.
Mr Turner-Dave however, was not surprised: "I'm delighted by the results of the Vote for Policies survey, if a little unsurprised. Green Party policies are decided democratically by our members, with every member getting an equal say."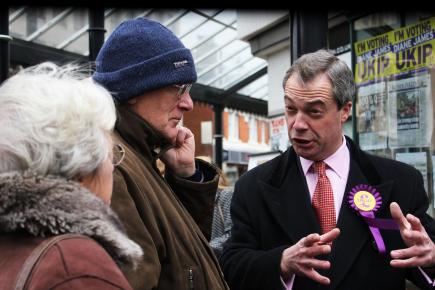 CLEAR TARGET: Ukip are 'likely' to be overtaken by the Greens
(©Jennifer Jane Mills, with thanks)
With Ukip a clear target for the Greens, Mr Turner-Dave feels that media coverage of the Farage-led anti-Europe party has been excessive, given the Greens have had an elected MP since 2010.
He said: "Ukip managed to convince two Tory MPs that it would be better for their careers to switch to Ukip and run in by-elections in places where they'd already been elected, amidst a storm of media coverage.
"They're a party led by ex-Tories, and their two MPs are ex-Tories. Ukip have yet to field their own candidate and win a seat in a General Election. The Greens have done that.
"I think a lot of people are concerned about politics shifting to the right in this country, and UKIP are fuelling that.
"I've also talked to a few people who were considering voting Ukip because they hated Westminster politicians, but when I told them about the Green Party they see our policies as a lot more attractive. So I think we will look to take votes from across the spectrum.
"The Greens represent a hopeful, progressive future and the country's starting to cotton on."
The pressing issue against the Greens is that they have been stigmatised as an environment-centred party. So why should voters sway from Labour – Manchester's dominant party?
A defiant Mr Turner-Dave said: "Red, blue, yellow, purple are all different shades of grey. The four establishment parties all tow the same line and represent the rich backers who fund their campaigns.
"I think The Green Party offers a real democratic alternative."
Top image courtesy of May2015, via YouTube, with thanks