Withington's very own hedgehog heroine, who is set to be honoured with a British Empire Medal from the Queen, has been described as an 'inspiration' by MP John Leech. 
Barbara Roberts, the founder of the Withington Hedgehog Care Trust, will be presented with the BEM by the Lord Lieutenant of Greater Manchester on the May 12.
Her work spans more than 30 years, meaning 63-year-old Barbara has dedicated her life to the rescuing the endangered species.
In this time she has also pioneered numerous projects to help raise awareness of hedgehog preservation.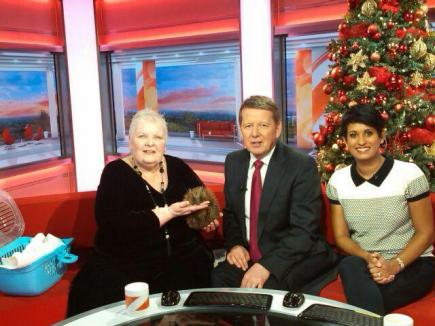 PRICKLY PALS: Barbara has worked hard to raise awareness of the danger Britain's hedgehogs face (© Withington Hedgehog Care Trust)
Touched by her dedication, South Manchester MP John Leech described Barbara as an 'inspiration' in a parliamentary motion.
He said: "Barbara is an inspiration. She has protected thousands of hedgehogs over 30 years and this BEM is a testament to her commitment and hard work. It is very well deserved."
Barbara told MM she felt 'humbled' by John Leech's comments.
She added: "Of course, I do this for the hedgehogs, but I am honoured and humbled that my work has been recognised by this award and John's parliamentary motion."
Despite rescuing thousands of prickly critters across the country, Barbara revealed that the toughest task she faced was in fact keeping the news of her award a secret.
She said: "I was really thrilled about it but the only problem I had was not being able to talk about it.
"I got a notification a few months before hand and they told me I had to keep it a secret. Now because I'm very talkative, I found it really hard to contain my happiness."
Barbara will join seven other BEM awardees who will attend the Queen's garden party at Buckingham Palace in the spring.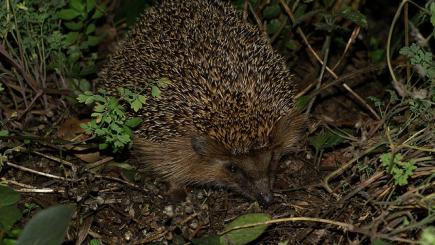 CREATURE OF THE NIGHT: Hedgehogs are nocturnal creatures; if they are out in the day something is wrong (© Kusabi)
She said: "It's nice that people support you in your work because these animals are really in danger and there aren't many people who care about them, I don't think."
At the end of last year, MM reported that the UK hedgehog population had dropped from an estimated 36.5million to a paltry one million during the last 50 years.
The sharp drop in numbers is obvious to Barbara in her day-to-day experience with these spiky little creatures.
"I cover the Liverpool and Cumbria area and normally this time of year I have 600 hedgehogs in," said Barbara.
"But at the moment I have 240 hedgehogs and that tells you how big the drop is and that's exceptionally worrying."
The Withington Hedgehog Trust Care team has also delivered a number of talks and workshops for the public and professionals since they got up and running 13 years ago.
Barbara left MM with some of the advice they give to people at these lectures on what to do if you see a hedgehog roaming around.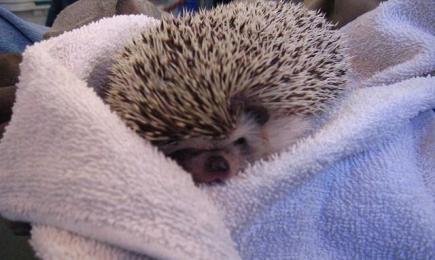 SNUG AS A BUG: If you find a hedgehog give it a towel-wrapped hot water bottle to keep it warm (© Pengrin)
She said: "If one is out in day light it means there's something is wrong. They're nocturnal creatures.
"If you do spot one out it's likely to have hyperthermia and is trying to find warmth which tends to be underneath cars.
"The best thing to do if you find a hedgehog in your garden is to bring it inside, give it a towel-wrapped hot water bottle and feed it sugar water.
"They also like cat or dog food and white meat. But the most important thing is to make sure you take it to your nearest rehabilitation centre."
Main image courtesy of Tae-Hyun Kim, with thanks.