A Salford cheer squad are embarking on a 4,000 mile trip across the Atlantic to compete at the USA's annual Cheerleading and Dance World Championships.
From practising their flips and lifts in a rented church hall to representing their county in a competition that attracts squads from around the globe, the Red Hot Flames hope to be victorious at the event being held in Orlando, Florida this week.
Although the competition will be fierce, cheer and dance coach for the 14-woman-strong squad, Tasha Wilde, believes that the group's natural chemistry and conviction will electrify the panel of judges.
"We don't really have any tricks up our sleeves as such, apart from a few exciting lifts and gymnastic elements," she told MM.
"However we have been working really hard and given that final push so we can perform to our full potential in Orlando.
"On the floor, our spark is usually our innovative choreography and our energy.
"Our team are such good friends that the chemistry when we dance together is electric, and since there are points available for this, we just hope the Worlds' judges enjoy our show."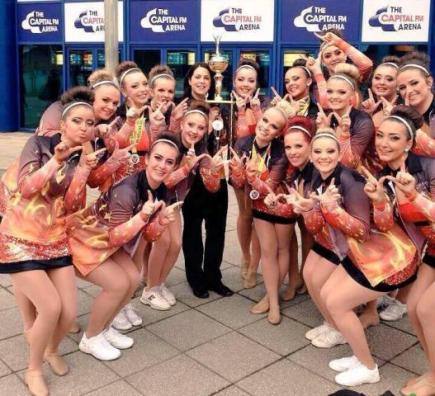 MAN-CHEER-STER: The Salford squad have cheered on stages across England for 19 years
The annual cheer-off, which is hosted by the United States All Star Federation, sees more than 40 countries' top teams qualify at their premier national championships to come and battle for the Orlando Worlds winning title.
The Red Hot Flames, who practice once a week for three hours all come from varied backgrounds – something that makes their international venture unique.
Tasha said: "There are 14 dancers in the competition team at the moment with three reserves in case of injury.
"Our girls all dance as a hobby and all have full time jobs ranging from teachers to paralegals to NHS professionals.
"Outside of class we will do extra cardio, stretching, strength training as well as going through the routine to ensure we know it like the back of our hand."
For 19 years, head coach Suzanne Roberts has led her girls to cheer on stages across England but the founder originally established her squad as the official cheerleaders for Salford Reds rugby club.
Though the girls are used to competing against the best dancing talents in the world, Tasha admitted that nerves were growing amongst the group as they boarded the plane.
"As we board the plane we aren't sure what to feel! We are nervous, excited, but part of us can't comprehend that the day is finally here since we have been counting down since May 25 2014," she said.
For years, cheerleading has been perceived as an Americanized sport with classic teen movies like Bring It On, that depict a stereotypical fierce image of the cheer world.
However the Flames are eager to squash the sensationalized stereotypes of cheerleading once they meet their transatlantic rivals.
Tasha added: "The American teams are always really excited to meet international teams and they love the British accent.
"Over social media we have had a lot of dancers from America saying they can't wait to meet us and get photographs.  We will also be trading T-shirts with them as a keepsake.
"Bring It On is a fun film and it's a favourite amongst all cheerleaders because it pokes fun at our sport which makes us laugh."
Though the rivalry may not exceed the fiery relationship of the Compton Clovers and The Toros, Tasha confessed that having a competitive streak is integral to the event.
She said: "It's similar in that it is very competitive and all teams share a common goal. However [Bring It On] doesn't truly reflect the hard work or sportsmanship which is widespread in the UK cheer and dance community.
"Of course there are competitive rivalries but this stays on the dance floor and sportsmanship is encouraged at all times.
"At the Red Hot Flames team we are very strongly concerned with sportsmanship and love to support, help out and cheer on our fellow British teams."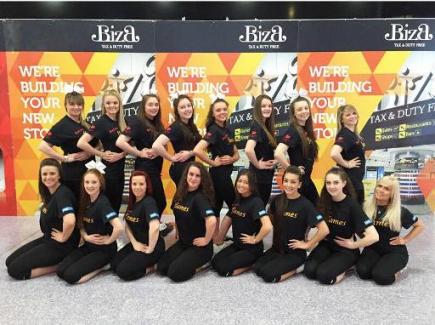 JUMP FOR JOY: The Red Hot Flames hope the World Championships judges enjoy their show
Unlike many of the cheer squads in the UK, the Red Hot Flames aren't all classically trained dancers.
With the athletic, acrobatic and rhythmic nature of the sport, the team use their diversity to add a creative motivation to their routines. 
"We have trained really hard to get where we are today. Compared to the other UK squads we don't have the best facilities as we are from an area of socio-economic disadvantage," Tasha said.
"Most UK teams competing at Worlds have their own gym or studio whereas we rent a church hall to train in.
"Our girls are from varied dance backgrounds so that helps us in terms of inspiration.
"On the whole, cheerleading and dance is about trends so a lot of our inspiration comes from other teams, especially American ones."