Members of the Chinese Football Association visited Manchester as part of their quest to win the World Cup by 2050.
The Chinese national team is currently ranked 81 in the world, and have only ever qualified for one World Cup in 2002, despite having the largest population.
A delegation, lead by Li Dongzhe, the General Secretary of the Yanbian FA, visited the National Football Museum, Old Trafford and the University of Salford with the hope of picking up some tips on how to develop a successful football body.
"Globally the name Manchester in sport has huge value around the world, and this is why the Chinese thought it was important to include the city in their visit," said Professor of Sports Enterprise, Simon Chadwick, who organised the trip.
The Chinese FA hopes to rapidly grow the popularity of the game in their country, and say that they have ambitions of of being wold leaders in the sport by 2050.
"We took them to the Media City complex, and they were very impressed with facilities that University of Salford have," added Chadwick.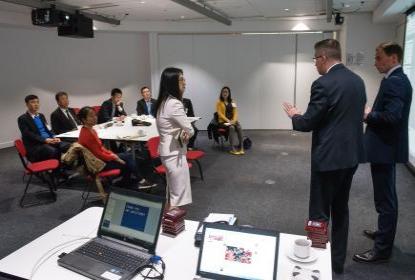 TOP TIPS: CFA members meet staff at the University of Salford
"They are also very interested in the campus concept around the Etihad Stadium and they are looking to duplicate this model in their own country."
The visitors also outlined that they are looking to increase the number of grass pitches to 50,000 by 2025 to provide young talent with the facilities needed to improve the standard of the sport.
The delegates also visited the Sports Analytics Machine (SAM) at The University of Salford.
"The Chinese are very interested in how they can gather data and predict performance so this device really appealed to them," said Chadwick.
The machine, developed by Professor Ian McHale, has been used by the BBC to predict football results and has already outscored the bookies with its predictions.
Along with Manchester, the group visited the home of England's national team St George's Park as part of their trip.
Image courtesy of the University of Salford, with thanks.