Burlesque dancers across Manchester have hit out at the Daily Mail for 'ridiculing' a dancer's song she recorded for her dead daughter and plus-size performers in general. 
Last week, Charlene Taylor posted her excitement after receiving news from her manager that 'the biggest newspaper company in our country' the Daily Mail, wanted to write an article about her story.
The 26-year-old was looking forward to an article about her singing in a tribute to her three-year-old daughter Summer, who tragically died of bronchial pneumonia in February.
She posted: "I'm so excited and I'm over the moon – this is such good, amazing news."
At the time, Charlene was told the Daily Mail would also be using her music video of The Power of Love in the hope of kick-starting her fledgling career.
Just 24 hours later the Doncaster mum returned to Facebook, devastated that her story had 'twisted [her] story to benefit their custom', having not once mentioned the tragic catalyst behind her singing and instead publishing a host of scantily-clad shots
And now the former contestant on BBC's The Voice Kiki DeVille has leapt to Charlene's defence, claiming that plus size ladies in the Burlesque industry have been 'ridiculed' in the press, purely for financial gain.
"As a plus size personality in the burlesque and vintage world, it's very important to me that people truly understand what burlesque is and what it does for the women and men who get involved in it," she told MM.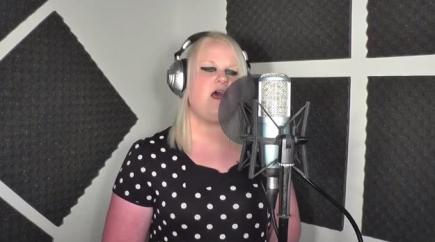 DEDICATED: Charlene hoped the tribute song would help further her career
"Size doesn't and shouldn't matter, the size of someone's heart is far more important. We will support Charlene (Chazabelle) all the way as she has been so horribly represented in the press."
"But make no mistake, we are not a community who take to being ridiculed in the press for a few extra sales. Get yourself to a Burlesque show. Learn that is not just about striptease, it's about empowerment, strength and good old fashioned fun."
The Vintage Personality of the Year Winner added: "I am plus size but as Will I Am said to me on The Voice I'm the real deal. I'm already there. Everything about me is thought through and promoted in a way that benefits me.
"Charlene was not given that opportunity. She was taken advantage of in a vulnerable state. Charlene and I share a commonality in that we have both lost children and then gone into burlesque – and it has changed our lives.
"I am behind her 100% and will continue to try to help her on her journey."
Charlene has since taken to social media herself to air her frustration at the way her story has been spun in the press.
"Instead of me leaving this, I want to put people right, because it's not right to read something that's not true," she wrote on her Facebook account.
"The press have called me Miss Burlesque UK and I'm not. I am only Miss Burlesque South Yorkshire from Doncaster.
"Also I'm not a paid dancer. I wish I was, but I'm not, and most of all the press have said I'm the best. I'm not the best and I don't think I am.
"Now all I want is to help other women out there who feel the same way I did."
She added that it was her intention to inspire other, particularly larger women.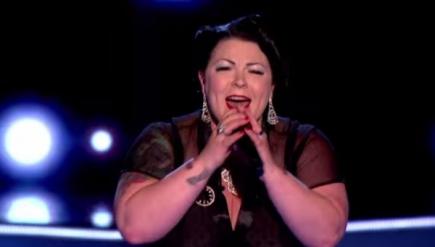 VOICE OF AN ANGEL: Kiki feels the press were unfair in their treatment of Charlene
"I'm saying don't be afraid to be curvy, love who you are in your own skin. I want people to see what I've done so they can think they can do it too," she said.
"I apologise for the mistakes, but the mistakes weren't my fault."
The Manchester burlesque scene has since slammed the national paper for manipulating the facts to fulfil their undeniable 'fat-shaming' quest.
Burlesque performer Ginger La Rouge told MM: "There are so many issues with that article I don't know where to start.
"According to the performer they completely changed what she said, she's not a paid, full time performer, and she doesn't think she's the best at it, she never won a title called 'Miss Burlesque UK'."
The Rotherham-born dancer added: "The Mail wrote that article and published those pictures knowing that people were going to share it in outrage at how someone could be so deluded."
Cherie Bebe, a well-known name on the Manchester burlesque circuit, said: "From seeing some comments from other burlesque performers I have worked with, I believe the lady was completely misrepresented – which is a huge shame as she had initially taken burlesque classes to gain confidence."