The Liberal Democrats saw red as they lost all their seats and Labour turned Manchester into a 'one-party city'.
After the council became a 'Tory-free zone' back in 2012, Labour finished off their other main rivals to take all of the 32 wards as the Liberal Democrats surrendered their nine seats with 95 out of 96 seats now held by Labour and just one by Independent Labour councillor Henry Cooper..
The overall turn out for the Manchester borough was 37%, a rise of 22% on 2012, but the City Centre ward saw a paltry turnout of just 17.2% as voters stayed away from the polls.
Manchester City Council Leader Sir Richard Leese expressed relief that his party held off UKIP's challenge and said: "At this point after the counts there is, of course, a sense of relief. Every councillor will feel relieved.
"This is the third time on the trot that we've outed Lib Dems. The level of responsibility the electorate has entrusted us will be taken very seriously."
"I certainly think what we have done as a party in Manchester is make it very clear that our responsibility is first and foremost to the city. We are representing, if you like, our city to the party and not the other way around."
Sir Leese indicated that he 'might have a pint' to celebrate the widespread Labour success. MM later caught up with the elated Labour winners at The City Arms pub, celebrating in style with a pint and a selfie to put any Oscar stars to shame.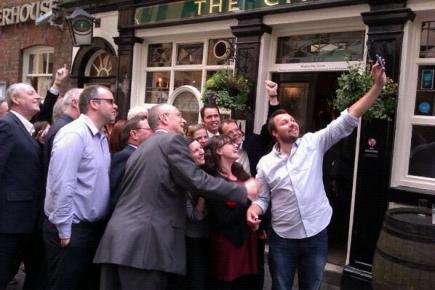 FRUITS OF THE LABOUR: Councillors celebrate with a selfie led by Kevin Peel
Councillor for Gorton South, Julie Reid saw her majority rise from 208 in 2010 to 1761 in today's results – but was concerned about the electoral popularity of UKIP who followed her in second place as Bob Catterall with 787 votes.
She told MM: "I'm obviously so happy that we have won, but I'm sad that people don't understand what UKIP are about and that they're a fascist party."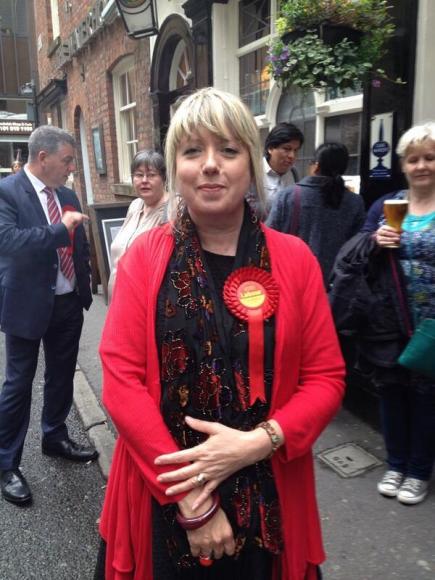 WARNING: Labour's successful Gorton South candidate Julie Reid was concerned by the UKIP gains
Moss Side kicked off the big red machine's wins with Emily Knowles taking the seat to ensure a hold while namesake Beth Knowles snatched the place from the Liberal Democrats with 1,149 votes.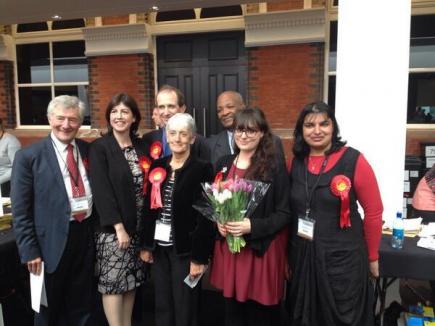 WINNING SIDE: Emily Knowles (second right) celebrates her Moss Side success
Fellow wins from the Liberal Democrats came in Didsbury East and West, Burnage, Chorlton, Chorlton Park, Levenshulme, Northenden and Withington – where Simon Wheale suffered a shock defeat by 288 votes to Labour's youngest councillor, 22-year-old Rebecca Moore.
UKIP scored a strong second place in Charlestown with 1030 votes to Labour's winning 1741 and came a little too close for Labour's comfort in Moston where the anti-EU party lost out by just 137 votes.
Dubbed as the people's protest party this week, UKIP  also came second in Ancoats and Clayton, Baguley, Brooklands, Crumpsall, Gorton South, Woodhouse Park and Higher Blackley
Liberal Democrat Dominic Hardwick, who saw the Didsbury East seat left by departing Andrew Taylor slip through his fingers as Labour's James Wilson beat him into second place by 600 votes, said: "I will continue to campaign and Lib Dems will continue to campaign, we still have (Withington MP) John Leech.
"I am very happy to be able to stand up for the people of Didsbury."
Hardwick added he was 'disappointed' about an all-Labour council and he was sure Liberal activists and Leech would be able to offer some scrutiny to make sure Manchester gets a better deal.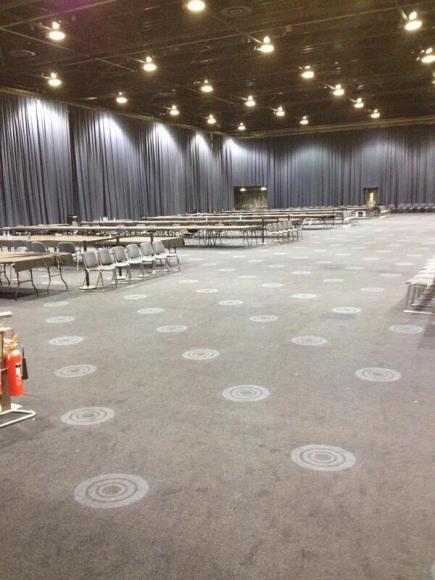 CALM AFTER THE STORM: Quiet descends on Manchester Central after the voting rush
The Green Party were also celebrating in over a third of the Manchester wards after attaining second place. The Greens' Chorlton candidate Jake Welsh came second with 20.4% of the vote – a first for the party in that particular ward.
He told MM: "I am absolutely delighted with the result. This is the first time the Greens have come second in Chorlton – it's our best result and our best percentage.
"The Liberal Democrat numbers haven't gone down much, only by 2%, and we've taken votes from other parties so that's good."