A wedding dress amnesty is being held to give terminally-ill brides the day of their dreams with the help of a unique marriage charity – leaving them with only something new, borrowed and blue to find.
Gift of a Wedding will be at the Trafford Centre on September 6 collecting wedding dresses from women who are keen to see their old outfits put to good use by helping other couples have their perfect day.
The charity was founded by Patricia Browne who creates beautiful free weddings for people with a terminal or life-shortening illness, regardless of age, race, gender, sexual orientation or religion.
Patricia told MM: "Wedding dresses are classic and they tend to stand the test of time. A lot of brides pack their wedding dresses away and so most are in perfect condition.
"One of the most expensive things at your wedding will be the wedding dress, so it's quite difficult to go to a wedding dress retailors. There are some kind ones out there who do provide dresses but it definitely is more difficult.
"We've been completely overwhelmed by the generosity of people, a wedding dress is one of the most precious items of clothing that a women will ever buy in her life so we really appreciate what a gift it really is."
Wedding planner Patricia set-up the charity when she volunteered to help an acquaintance suffering with brain cancer who wanted to get married – but didn't have the funds to pay for the big day.
Sadly, they never got the chance to get married as he passed away before they got the chance to tie the knot, but that gave Patricia the spark she needed to create the non-profit organisation.
As well as donated goods and services from generous UK wedding and hospitality businesses, the charity is also completely reliant on kind-hearted blushing brides who want their own wedding garments to live on and be part of someone else's story.
Often those who are terminally ill or have life-shortening illnesses don't get the day they want or deserve as many they have been forced to quit their job and their partner has become their carer.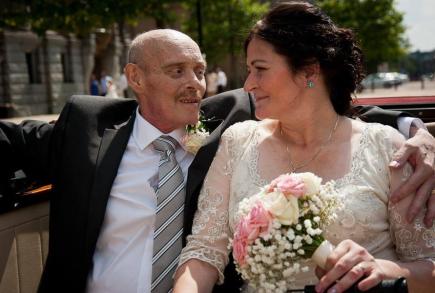 DREAM DAY: Liam died just three weeks after his wedding
With her wedding contacts of industry experts, Patricia has been able to conjure up weddings beyond couples' wildest dreams.
"Usually a wedding takes 12-to-18 months to organise, but we have to organise it in just a few weeks because the people we help just don't have that time.
"Liam, the groom from the most recent wedding we organised passed away just three weeks after his wedding, which was incredibly hard for us, but this is what we do.
"His family are so incredibly grateful that they have those videos, those pictures and memories. It really was a beautiful day and a beautiful time."
The charity will be at the Intu Trafford Centre asking brides and grooms from Manchester to donate their used dresses and suits, along with any other wedding accessories or even bridesmaid outfits.
The dresses will be offered to terminally-ill brides, but those which are not used may be auctioned to healthy brides, with the profits made going towards funding the weddings that the charity organises.
Patricia said: "We did one in Liverpool and it was incredibly successful. We got so many wonderful women there and four, five months later we are still getting dresses which is incredible.
"Now we're throwing down the gauntlet to the women of Manchester to try and top that and donate their dresses which will make a real impact on someone's life."
To find out more about how Gift of a Wedding and how they can provide weddings for people who are terminally ill or suffering from a life-shortening illness, visit their website.