Santa Claus is coming early to Manchester as the award-winning Christmas Markets open for their sixteenth year on November 14.
The biggest Christmas market in the UK will run for the first time at Market Street and Cathedral Gardens – the latter of which will be home to a beautiful 16metre high windmill.
As shoppers are transported into a scene from A Christmas Carol, Albert Square will be presided over by the much loved giant LED lit Santa.
And with just 22 days until this year's markets begin Councillor Pat Karney cannot wait for the city to be transformed.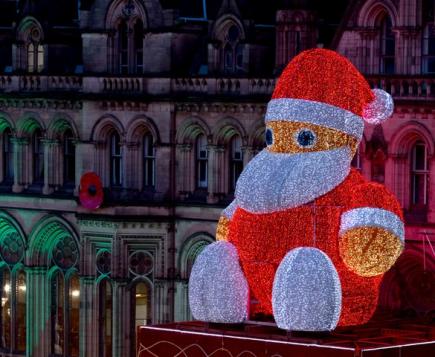 HO HO HO: The much loved giant LED lit Santa will be making an appearance once again
"It's always said that Christmas comes earlier every year, yet every year it doesn't come early enough in my opinion," said Cllr Karney, Manchester's Christmas spokesman.
"The minute the Christmas Markets begin to arrive the city is transformed. A wonderfully festive atmosphere descends on Manchester and a layer of Christmas spirit settles on the streets."
This year's festivities will see nine sites across Manchester engulfed by the festive spirit as traders from Transylvania to Lapland join local entrepreneurs.
The markets are the oldest of their kind in the UK and last year attracted nine million people to Manchester city centre.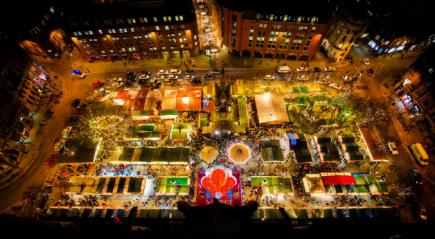 HEAD FOR HEIGHTS: A 16metre high windmill will just be one of many attractions at the market
St Ann's Square, the original home of the markets, will once again play host to the traditional German market while the French market will return to King Street.
Close by, Exchange Street and New Cathedral Street will welcome back the coffee house and covered German beer house for a successful third-year.
Cllr Pat Karney added:  "We love how the markets enhance our high streets, giving shoppers a range of options for their Christmas shopping.
"When the city centre transformation is complete, the Manchester Christmas Markets will be bigger and better than ever."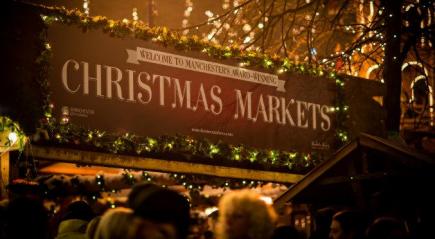 MERRY CHRISTMAS: The market is due to run between November 14-21
Markets will also run on New Cathedral Street and Brazennose Street where vendors will arrive from around the world.
Send your Christmas list to Santa at @MCRsanta, grab a traditional German gluhwein and enjoy the festivities between November 14 and December 21.
Image courtesy of Robert Wade, with thanks