Hong Kong pro-democracy supporters marched in Manchester this afternoon, demanding the UK government back their cause ahead of regional elections on Sunday.
Roughly 200 people from as far as York and Sheffield met in All Saints Park, close to Manchester Metropolitan University, for the event, which was coordinated with others across the country.
Most wore black and masked their faces, both to show solidarity with protesters in Hong Kong and protect their identities.
Bemused Christmas shoppers looked on as the largely peaceful demonstrators, chanting "Fight for freedom!" and "Stand with Hong Kong", moved along Oxford Road, Deansgate and onto St. Peters Square.
But tensions flared when organisers took around 150 demonstrators into China Town, a show of defiance against the mainly pro-government community.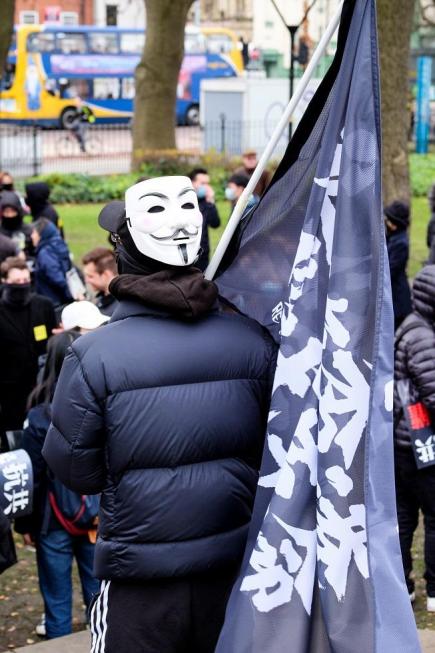 One man, a local chef, shouted defamatory remarks at protesters. He was later confronted by around five on Nicholas Street, where they exchanged insults before others stepped in to break them up.
"Britain has failed Hong Kong"
While the majority of the protesters were overseas students, there were some from different backgrounds.
A family from Hong Kong, who'd made plans to live in the UK for a year, came with their two young children.
"Before we moved to the UK, we were very active in the Hong Kong protests – in the streets, the city, even before 2014," the father explained.
"We hope the UK people can support Hong Kong to fight for democracy, fight for human rights, fight for freedom."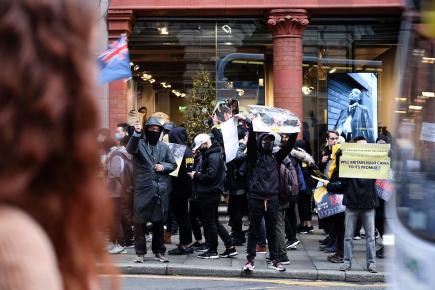 Others had more recently experienced the protests in the administrative region of China, which have now entered their sixth month.
"Some of my friends were inside the Polytechnic University," said one student from Sheffield, the site of a week-long stand-off between protesters and police, still on-going.
"They escaped by climbing through underground pipes. It's impossible this is happening in a developed and modernised society."
A few UK citizens also attended the rally. "Britain has failed Hong Kong," said a Manchester resident, who declined to be named.
"The world should be scared of China. Hong Kong is just the first; they'll go after many more."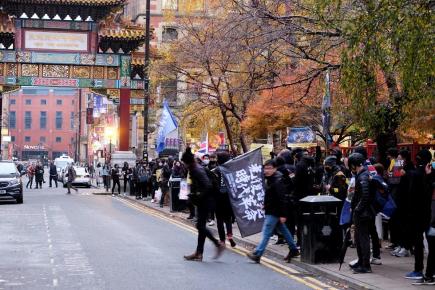 "A little confusing"
In St. Peters Square, the protesters broke into a rendition of "May Glory be to Hong Kong" – the anthem of the pro-democracy movement.
Shoppers milling about the city centre then gathered to hear speeches detailing the "five demands" – principles that the movement say must be implemented to end demonstrations.
Two students watching from the sidelines said they were still unsure of protesters' long-term goals.
"I understand the protests are legitimate, and I understand that China shouldn't have power over Hong Kong, at least according to the agreement they have together," said one.
"But I have a problem understanding what they want to achieve. Do they want independence? Do they want to belong to China? Or to Britain?"
The second added: "We don't defend the violence it's creating, and I am concerned about that, but the consequences of 'freedom' are a little confused."
Others took to Twitter, saying they'd been inspired by the pro-democracy demonstrators.
"Managed to witness this march today and I am truly in awe," wrote Payal Mistry.
"We desperately need to protect and fight for their freedom with everything that's happening right now. Now isn't the time to ignore."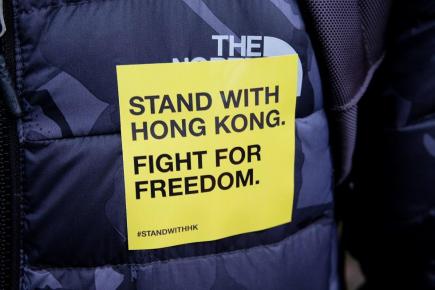 One country, two systems
The UK handed over Hong Kong to China on July 1st, 1997, a region which previously formed part of its empire.
China agreed to govern the region under the principle of "one country, two systems," meaning Hong Kong would maintain a high degree of autonomy.
But in recent years, animosity has developed among those who believe it's exercising too much control.
Peaceful demonstrations first emerged in March over a proposed extradition bill, which would've allowed Hong Kong citizens to be tried in mainland Chinese courts.
Since then, the pro-democracy movement has grown in stature, as members look to garner even greater freedoms and rights in the face of police brutality.
All images by Douglas Whitbread.