Warwick Drive in Hazel Grove, Stockport, makes a firm claim to be the most festive street in Manchester where nearly all the houses fill their gardens with Christmas decorations.
The lights have been going on for nearly 30 years after resident Brian McAndrew looked out of his window to only see one light on the street at Christmas, a street light.
McAndrew needed to liven up the street and make it more festive.
He then later went to the shops and decked out his house in Christmas lights and decorations in hope that the rest of the street would follow suit, which evidently they did. 
Over the years the lights on Warwick Drive have continuously grown bigger and bigger, attracting families from Greater Manchester and beyond. 
Six years ago, Warwick Drive started to support local charities in Stockport with help from the public who visited their street to see the Christmas lights. 
Yet this year the quiet street pays tribute to a late resident Christian Boswell.
Boswell sadly passed away due to cancer at the age of 39 in March.
During his illness, Boswell spent time in the care of St Ann's Hospice in Heald Green.
Now Warwick Drive has made St Ann's Hospice the charity of choice for this year's Christmas lights in support of Boswell's family. 
Mancunian Matters spoke to the organiser and local resident Tim Lyons.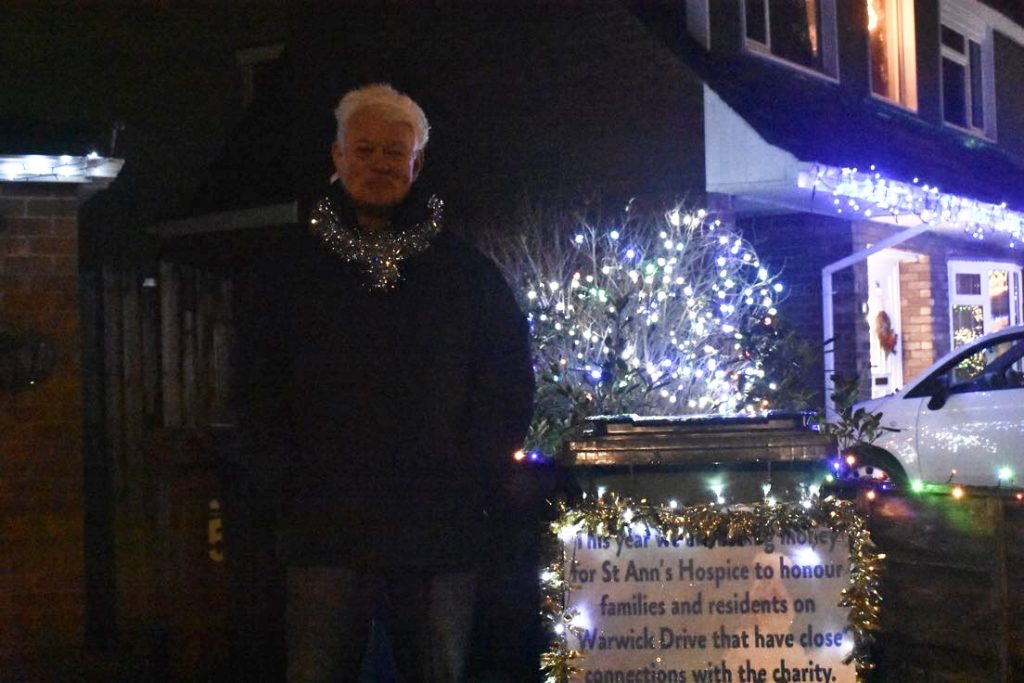 Lyons said: "It is particularly important this year because unfortunately one of our residents, Christian, passed away in March, so it seemed appropriate this year to support him."
"Christian's daughter, Darcie, who is six did a sponsored walk in the summer where she walked over 30 miles across a few days and she raised about £10,000. It was incredible."
"It seemed appropriate to support local charities. So local people supporting local charities."
"It meant that god forbid if people had to utilise their services, they could do it safely and secure in the knowledge that they had previously donated to it."
"It's great, people have been incredibly generous." 
"The electricity bill gets completely ignored, it's not important when it's for charity."
 Lyons additionally commented on the feeling amongst the neighbours.
He said: "The strong community sense has always been there, we all know each other but thankfully not in your face. It's not like Coronation Street!"
"I went past the founding father's house one year and I noticed that he's got a few more items."
"As I was typing up some work, I could see him walking passed and he paused and he started to count the amount of items that I had."
"Then not more than 24 hours later two more pieces appeared on his drive, so there's a nice friendly competitive spirit too."
Additionally, there is one house on the street where scaffolding is used to create an entrance of Christmas lights.
Yet one year they had their drive re-paved but made sure the builders left holes in the floor just for the scaffolding to make sure that their Christmas lights could still be preserved.
True commitment to the cause. 
Warwick Drive has also got doorstep concerts running until Christmas thanks to Steve Hallworth.
Hallworth sings and plays the trumpet to various festive songs to encourage more people to donate to St Ann's Hospice.
To donate to this fantastic cause, visit: