June 24. Mark the day, the morning the United Kingdom voted to leave the European Union…
With the 51.9% majority of the 72% turnout voting to leave, compared to 48.1% voting to remain, stay tuned to MM's reaction throughout the day with updates on what this decision means for the UK.
***
5:15pm:
Team GB cyclist Mark Cavendish who was named in the squad for this August's Rio Olympic Games on Friday.
"Right now the anti-doping tests come quite regularly before the Tour de France so I have to leave my phone on loud overnight.
"Peta was up with the baby and she starts [texting me] on my phone. I woke up and I thought something was wrong, and she told me the result, so I was up early and watching it."
"We (the Isle of Man) can't vote – Manx people can't vote. We have an independent government, but Scotland has its own parliament too. And we're affected by it."
4pm:
A very different situation from over fourty years ago…. 
3:45pm:
More University of Salford reaction here courtesy of Dr Cristina Chiva, lecturer in EU politics.
"So far, European leaders have been holding their cards very close to their chest, urging calm and saying very little about what will happen next.
"Silence should not be mistaken for weakness, though. Brexit is an existential threat to the Union, which is why, in the weeks that follow the referendum, the 27 member states are likely to get together and prioritise the survival of the EU over domestic pressures from Eurosceptic movements.
"Calls for similar referenda in other member states will remain unheeded. If anything, European leaders will probably learn a valuable lesson from Brexit – that they should resist calls for a referendum, at all costs. Within this context, it is only by projecting a united front that the EU might survive in its current format, for better or for worse."
2:30pm:
And another Manchester uni viewpoint, this time professor of economics Diane Coyle: "The UK will be worse off politically as well as economically, less able to deal with big problems, and it will be worst for the young people (who overwhelmingly voted Remain). 
"The short term impact was clear in the currency and stock markets.
"Summer holidays abroad just got much dearer. Prices of imports like lots of our food will go up. It will be bad for returns on pension funds.
"It is the end of regional funding from the EU, although some other parts of the UK will suffer more."
2:15pm:
MM's Ciara Hanstock spoke with Professor Dimitris Papadimitriou, professor of politics and expert on EuroZone Politics at the University of Manchester.
"My reaction is one of disappointment obviously, because I have always argued that Britain would be better off as part of the EU. At the same time it's not one of major surprise," he told MM.
"We can expect some economic cost, perhaps not necessarily a catastrophe as of yet, but in the long-term there will be economic losses.
"In the short-term it will bring economic difficulties and a political crisis, the beginning of which we started seeing today. But that's only the beginning of it. I think the Labour leadership will come under tremendous pressure over the next few days.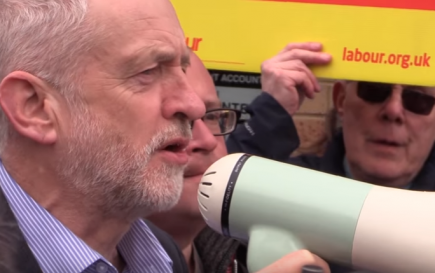 COR… BIN? Will Labour leader Jeremy Corbyn survive the shock result? (image courtesy of The Guardian via YouTube, with thanks)
"So I think that we will see changes to the party political scene which is extremely important, because what happened yesterday is Britain effectively pressing the button for Brexit.
"This is not going to be a short process, I think that we are probably looking at a minimum of two years but more likely perhaps four or five years."
He said: "I think that what appears to have happened, of course it's too early to say with certainty, is that not enough pro-European votes were galvanised, particularly among the young, because of course it's one thing to say that you are pro-Remain, it's a different thing to go out and vote.
"So there might have been discrepancies there, that is to say, not everybody who declared themselves pro-EU went out to vote."
1:00pm:
And here's the University of Salford's professor of sports entreprise Simon Chadwick to talk about implications of Brexit on the Premier League.
"We are moving into uncharted territory here and this could have a big impact on the Premier League. If the pound continues to fall then foreign talent will become more expensive, so that could have a huge knock-on effect in the summer transfer window. Plus the wages of players coming to England are now worth a lot less than previously.
"As many as 400 players in the top two divisions in England and Scotland could fail new work permit requirements, including players like Dimitri Payet and N'Golo Kante. But it is very unlikely they will have to leave immediately.
"Will it boost homegrown talent? Clearly if we are going to restrict the movement of players, clubs will have to get their players from somewhere. But a lot of clubs have downsized their reserve teams.
"There could be a big onus on clubs to reconstruct their talent systems and English players could get more opportunities again. But at the same time the lack of international exposure could impact on their skills as they are not playing with the best players anymore."
12:45pm:
We heard from University of Manchester's professor of politics Andrew Russell at 9:20am this morning and now MM's Matt Ford has had a chat with him. A full interview piece will follow over the weekend but for now here are some taster quotes…
"Leave has that anti-establishment, anti-politics appeal. If you think about the expenses scandal, the panama papers, you can see how people might feel a distance between themselves and the political, ruling elite class," he told MM.
"Across Europe populist, right-wing parties are taking advantage of marginalised groups. Some of that protest vote has been picked up by UKIP and now by Leave.
"Labour were very slow to recognise the UKIP challenge to their core, working class constituency.
"What we've seen in England and Wales is real polarization. It's not just Scotland vs England, it's also cities and their suburban areas vs large towns where the Labour vote hasn't been mobilised." 
12:00pm:
Greater Manchester result; Those who have benefited from growth, and who have been left behind fighting for survival pic.twitter.com/MmV927axpS

— Jim McMahon MP (@JimfromOldham) June 24, 2016
11:50am:
A bittersweet pill for Salford City Mayor Paul Dennett to swallow, after he campaigned on the remain side…
"The people of Britain have spoken in this referendum. Now is the time for action, not words, to ensure that the promises made by the Brexit campaign are fulfilled," said the recently-elected Dennett.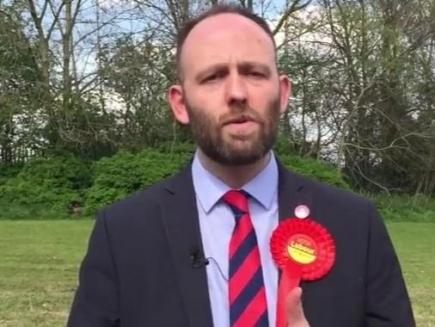 Image courtesy of Salford Labour via YouTube, with thanks
"More money for the NHS, better terms and security for workers, and access to affordable and social housing. We must all now work together to ensure the best outcome for the British people.
"The residents of Salford can rest assured I will do everything in my power to protect jobs and services in our city."
11:40am:
Theresa Griffin, Labour MEP for North West England, after mixed results across the region with towns voting for leave while Manchester, Liverpool, South Lakeland, Sefton, Stockport, Wirral and Trafford backed remain. (Turnout: 70%, 53.7% voted leave).
"It is time to work together, heal the divisions in our country and negotiate the best outcome we can for all of the North West," she said.
"We have to protect jobs, rights, our environment, international research and our advanced manufacturing base and, most importantly, our most deprived communities and most vulnerable people.
"Europe has done so much to regenerate our region, train our people and provide the largest single market for our goods and services. We should be leading on the international stage, especially for our young people.
"It's now more important than ever that we take power back from Whitehall into our city regions and regions to build stronger communities and a stronger economy based on Labour values.
"I will continue to represent the North West and will work hand in hand with our local government leaders to get the best deal for the North West."
Just filled the car up … #EURefResults pic.twitter.com/MiPqzxk9ae

— AngryBritain.com (@AngryBritain) June 24, 2016
10:45am: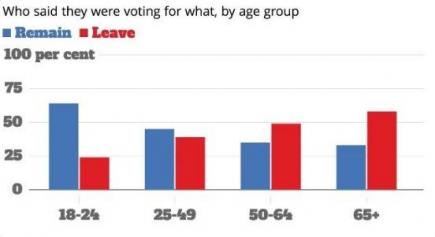 10:35am:
Yvonne Fovargue, MP for the Wigan constituency of Makerfield, speaking on behalf of the public where the vote was resoundingly in favour of leave (64%/36%).
"This was a rejection of the status quo by millions of people who are not sharing in the wealth of this country, for whom the economy is not working," the 59-year-old said.
"After this divisive campaign and close vote, the first task is to come together and heal the divisions. The immediate priority is to stabilise the country and the markets.
"Our country is divided and things need to change. Politicians on all sides must respect the voice of the British people, who have spoken."
10:15am:
Eeerrrm, right. 
Just arrived in Scotland. Place is going wild over the vote. They took their country back, just like we will take America back. No games!

— Donald J. Trump (@realDonaldTrump) June 24, 2016
10am:
So we've seen the results from Salford, how about experts at the University of Salford and their thoughts on Brexit?
Tourism expert Dr Neil Robinson, Professor Karl Dayson (Associate Dean of research and innovation), Roland Fox, a lecturer in economics and a specialist in international finance and international relations lecturer Dr Moritz Pieper have shared their views by email.
Dr Neil Robinson: "In the short term, holiday flights to Europe will increase as a result of Brexit, but let's not be too down – this is democracy at work, whether we agree with the outcome or not, the fact that we were given the option to vote should be applauded."
Professor Karl Dayson: "As predicted, the stock markets have already taken fright in response to the news, with the pound plummeting to its lowest levels since 1985, the FTSE falling more than 500 points, and the Bank of England's Mark Carney saying he will do whatever he can to protect the banks.
"This is likely to be followed by two to seven years of disruption, and a probable lumpy recession. Don't be surprised if a campaign to 're-join' gets traction if things turn ugly. The economic uncertainty will only be matched by political uncertainty, with a Conservative leadership campaign to find a successor for Cameron by October, Labour MPs potentially toppling Corbyn for his failure to campaign properly, and the SNP calling for a second Scottish referendum."
Roland Fox: "The ball is really in the EU court now. One route would be to force out or sideline Jean Claude Junker, who is in many ways most to blame, and have an EU wide Brexit vote.
"Charles de Gaulle, that hugely wise French president, once called the UK a US aircraft carrier moored off the Continent. How right he was, and it will serve as a constant irritation in the EU unless they reaffirm their unity in some way."
Dr Moritz Pieper: "Until the UK formally leaves the EU following negotiations, all security and foreign policy mechanisms will continue to work as usual. Thereafter, the UK will no longer be a part of the European External Action Service (EEAS), the EU's foreign policy machinery, and the UK will not be able to contribute to EU crisis management and diplomacy.
"Outside of the Council of Ministers, London will no longer be able to decide on such vital issues as the imposition of EU sanctions – in the spotlight recently with the decision to extend EU sanctions against Russia – and the UK will also no longer be in a position to contribute to the formulation of common policies.
"While intelligence sharing mechanisms have already been stronger on bilateral bases with other member states such as France and Germany, the UK will not be a part of Europol anymore, and will have no say in the EU's Common Security and Defence Policy."
9:55am:
HolidayTravelWatch consumer director Frank Brehany offers his thoughts on the decision and how it might affect the travel Consumer Rights of UK holidaymakers:
"This is a sad day for the UK and a sad day not just for travel consumer rights, but for all consumer rights.
"40 years of work now hangs in the balance and the loss of any or all of these rights will ultimately cost the consumer through lost opportunities of enforcement to a lost opportunity to enjoy a better regulated holiday product.
"Throughout the referendum campaign we tried to give consumers clear guidance on the options before them, but we were unable to do so because neither campaign provided any information on what would happen to consumer rights in the event of either a Norway or Independent Brexit.
"We will begin to see how this will play out for consumers in the coming months." 
9:40am:
There have been a fair few jokes aimed at England and Manchester City footballer Raheem Sterling, who hasn't been at his best at Euro 2016 so far, in the wake of the result.
#ThatMomentWhen You realise Raheem Sterling isn't the worst performing Sterling this month. #EURefResults pic.twitter.com/EJYI2gy7RI

— BBC Sporf (@BBCSporf) June 24, 2016
9:35am:
So a big, big result in Salford, here are the numbers…

9:30am: 
Angela Rayner, MP for Ashton-under-Lyne, said: "I do worry about the impact on jobs, investment and our economy but there can be no going back now.  
"We must focus on getting the best deal for Britain and for working people from our exit and then look forward to a new future full of new possibilities.
"But although we have voted to leave the EU, we are still part of the European Continent and I hope and pray that we will continue to enjoy good, positive relationships with our nearest neighbours."
9:20am:
"The UK is in for long period of great uncertainty, which in itself damages the economy because people hold off on their planned spending," said Diane Coyle, Professor of Economics at the University of Manchester.
"The fall in the pound will have immediate effects, making Britons' overseas holidays more expensive and tending to push up prices of imports like food. We will probably quite soon see reduced investment by foreign businesses.
"People should be under no illusion that the vote is a bad outcome in terms of the economy for the foreseeable future."
This is the Manchester vote… pic.twitter.com/psiFxDcHER

— Dave Haslam (@Mr_Dave_Haslam) June 24, 2016
Andrew Russell, the university's Professor of Politics: "Britain, especially England and Wales, has revealed itself to be deeply divided in political terms. This result has deep implications for the issue of the nation's place in the world but also reveals much about a nation ill at ease with itself.  Future elections are likely to follow a similar polarised path.
"There is bound to be pressure to reexamine the relationship between Scotland and the rest of the U.K. and possibly Northern Ireland too. 
"David Cameron has gambled and lost for the first time in his political career. His party rejected his vision of Britain in Europe and his position will be under threat.
"The next Conservative prime minister will have to bring together the party and the country. Too many on both sides in the referendum campaign will find it impossible to work with the other side of their own party. Cameron's likely successor may well have played a fairly low key role in the EURef – could Theresa May be the remainer that the brexit camp could work with? 
"Labour too has to face up to some uncomfortable truths. An understandable reaction to the civil war in the Conservative party was ultimately disastrous for the remain campaign as the labour heartlands outside of London and the big metropolitan cities never got going. 
"The failure of the opposition to see that huge swathes of its core support rejected the party's official position, or perhaps even worse failed to notice it, is at the heart of understanding this result and the stunning victory for the leave campaign."
How long till Liverpool, Manchester and Wales realise there are signs everywhere saying "paid for by the EU"?

— Billy Keable (@billykeable) June 24, 2016
Image courtesy of Leave.eu via YouTube, with thanks.