Ten years confined to a wheelchair is not going to stop a Stockport gym enthusiast from raising cash for charity as he aims to walk unaided on a treadmill for two minutes.
Tony Hatton will be putting his best foot forward to grab funds for St Ann's Hospice and Brentwood School in Altrincham for children with special educational needs but he is also motivated by the physical challenge at Life Leisure Stockport Sports Village in Woodley.
The 64-year-old lost his mobility in a sickening attack that left him paralysed and unable to move a decade ago.
"I don't remember. I was told there was a woman screaming outside a pub and me and three others went outside to sort it out," Tony, from Woodley, told MM.
"Someone smashed a bottle over my head apparently but I just woke up in a wheelchair. It could have been any of us but I was just unlucky."
The attack left him in a coma, on a life support machine and caused an aneurysm which caused him to become severely disabled.
Now, Tony, who used to follow Manchester City all around the country before the attack, attends the gym three times a week with his carer Jimmy, allowing him to 'get out'.
He told MM this is 'something I have to do for me'.
His sheer determination and the support of the rehabilitation unit who initially helped him and his wife and family, have helped him to gain new strength.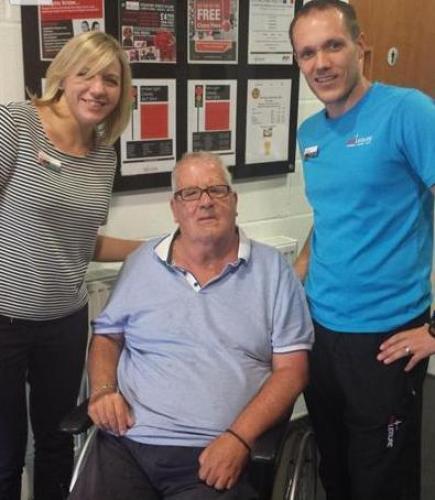 DETERMINED: Tony is thankful of the help from Dave (right) and Lisa
 
He can only walk with a stick or aided by someone else – but struggles to overcome a distance of 10 yards and has had a go on the machine after the September 1 challenge, describing it as 'not easy'.
And he has praised the staff at the Stockport gym for inspiring him, particular his trainer Dave and manager Lisa.
"All the staff at the gym are wonderful and the people who go to the gym are very supportive," said Tony, a former Woodley cub leader of 25 years.
"The personal trainers are brilliant, they talk me through what I need to do and give me fantastic support literally every step of the way. I've even lost a stone in weight."
But Tony is determined to take steps in the challenge to show the way forward for others to become more active.
"There a lot of my wheelchair buddies and other people who never get out and I tell them to get off their arses and do something," Tony said.
"They are all capable. But they put the telly on and sit there all day, every day."
"I have a wife who has pushed me from day one too.
Further inspiration comes from BBC Radio Manchester presenters Eammon O'Neal and Jimmy Wagg, whose chosen charities Tony has decided to support with the proceeds from his walk as a thank you for keeping him going.
"They've kept me sane for the last 20 years," said Tony.
If you would like to support Tony in his treadmill challenge, donate to his chosen charities by clicking here.