The father of the tragically killed Viola Beach guitarist River Reeves hopes the inaugural festival in his son's memory can get so big that monies raised can help disadvantaged kids pursue careers in the arts.
RivFest will be held at Warrington's Priestley College where River attended on Saturday September 2 – just over 18 months since the 19-year-old and bandmates Jack Dakin, 19, Kris Leonard, 19, Tomas Lowe, 27 and manager Craig Tarry, 32, died when their car careered off a bridge in Sweden.
Months after the tragedy headteacher Ben Dunne – River's father – founded The River Reeves Foundation in an aim to offer support to young people from disadvantaged backgrounds as they pursue careers in the arts.
"After River died we spent a lot of time thinking of different ways we could raise money and help people in his memory," he said.
"My wife Sharon works as a teacher, so we work with a lot of young people. We know how difficult it is for youngsters from disadvantaged backgrounds to pursue careers in the arts.
"We wanted to offer financial support to young people so they have the opportunity to realise their dreams as actors, musicians, directors, artists and writers. We decided to build a foundation that offers bursaries to talented young men and women so they can dare to dream about working in the arts.
"RivFest is our main fundraising event of the year, so by coming to watch live acts like Maximo Park and Billy Bragg, you are also supporting young people."
Headline acts include Maximo Park, Billy Bragg and Eliza and the Bear while The Voice winner Mo Adeniran will also share the stage with a variety of bands and DJs, including This Is England star-turned-DJ Thomas Turgoose.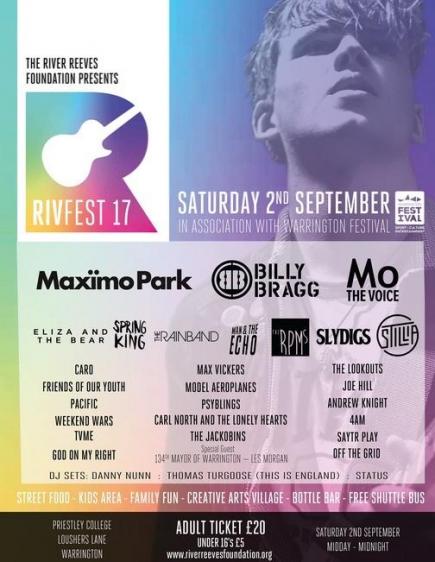 Other acts include The Voice star Max Vickers, The Rainband, Stillia, Man and the Echo, The RPMs, Slydigs, Caro and Friends of Our Youth.
"We want RivFest to grow bigger and bigger every year. We'd love it to get to the size of Glastonbury or Creamfields and use the profits to improve the lives of young people across Warrington," said Ben.
"River loved a party, loved a beer and loved being with his friends. He also loved music, and gigs and festivals were places where all that he loved came together.
"He was one of those kids that had this coolness, but when he got passionate about something he became very tunnel-visioned. The second he joined Viola Beach he was playing the guitar all the time. His guitar playing took on a whole new edge.
"After River died we couldn't just pull the blinds down and sit in a dark room and do nothing. We wanted to make a difference."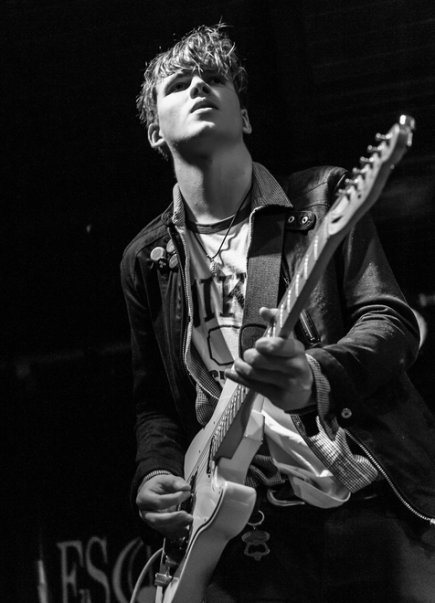 GLASTONBURY STAR: River rocking the crowd at Glastonbury – the UK's premier music festival which his father hopes to echo up North 
As well as live music, the festival will feature a creative arts village where families can take part in arts and craft activities.
There will also be a selection of street food vendors preparing delicious food to sustain festival-goers as they dance to the music.
Arriva buses are providing free shuttle services from both Bank Quay and Warrington Central rail stations direct to the festival site every 20 minutes.
The River Reeves Foundation aims to support young people who want to pursue careers in music, theatre, art and film by providing bursaries. For more information visit: www.riverreevesfoundation.org