The number of takeaways in the centre of Manchester is two thirds higher than the national average.
A survey coordinated by Public Health England (PHE) shown that there are 752 fast food shops in Manchester city centre which is an average of nearly 147 outlets for every 100,000 people.  This is 67% higher than the average of 88 shops for the same ratio.
The problem is not just limited to the centre of Manchester though as all of the nine boroughs of Greater Manchester are above the national average on the report.
Dr Rebecca Wagstaff, Deputy Director for PHE, said: "Over a fifth of adults and children eat takeaway meals at home more than once a week which is contributing to the nation's obesity epidemic.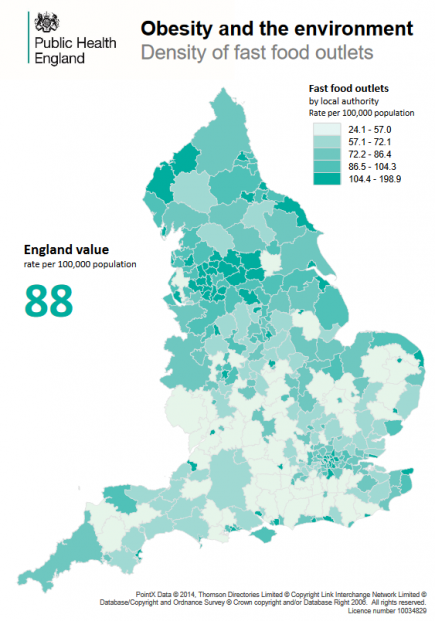 OBESITY EPIDEMIC: Public Health England are urging families to stop eating takeaways
In the North West the majority of our local authorities are already tackling this issue and introducing a number of initiatives including trying to limit new takeaways, particularly around schools."
Public Health England are hoping that a briefing that they sent to local authorities in 2014 about restrictions to stop takeaways opening near schools will also reduce the level of child obesity too.
The study, which figures a map of 7533 takeaway outlets in the UK, has been put together in a bid to highlight the danger that fast food poses to increase obesity.
Other measures that have been put in place to improve food health include working with restaurants, takeaways and cafes to reduce the amount of sugar, salt, saturated fat and calories in the food that they serve and increase the amount of healthy options that they offer.
PHE are also promoting a guide called the Eatwell diet which includes having 5 portions of fruit or vegetables per day as well as eating more oily fish and fibre and reducing food that is high in fat, sugar and salt.
To view the map in full, visit https://www.noo.org.uk/visualisation