This CCTV footage shows the moment three brazen masked men used a homemade battering ram to smash down a front door in Blackley and terrorise the owners last week.
The three men, wearing balaclavas to hide their identity, pounced on the terrified owners once inside the house on Marshbrook Drive, holding a knife to one of their throats.
In what was believed to be a targeted attack, the trio made their getaway in the victim's Audi and on a BMW motorbike they stole.
Detective Constable Peter Murphy said: "This was a terrifying experience for the victims, who not only suffered the shock of seeing their front door smashed open but were also terrorised by men brandishing knives.
"The thieves seemed to know exactly what they were doing and knew what they were after, so it appears as though this robbery was planned in advance."
The incident, which occurred around 10.40pm on Thursday November 20, saw the men split up once inside.
One held a seven inch kitchen knife to the first victim's throat, while the others went upstairs to terrorise the second victim with a knife.
Keys to the victim's Audi A5 and BMW motorcycle were taken, along with a motorcycle helmet and leathers.
All three offenders are described as white men, wearing dark clothing and full face balaclavas, speaking with local accents.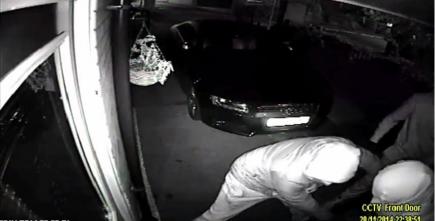 TERRIFYING: The thugs used a homemade battering ram to gain entry
A short time later the Audi was discovered abandoned on Charnwood Road – but the bike is still missing.
DC Murphy said: "The CCTV does not offer much in terms of identification of these thugs, but I urge people to watch the video and contact police if they believe they recognise any of the three robbers pictured."
Anyone with information should call police on 101 or the independent charity Crimestoppers anonymously on 0800 555 111.