Children and parents will take to the streets of Manchester on June 1 to demand action about wildlife extinction.
Family climate action group Rising Up! Manchester Families are hosting their 'Carnival of Creatures' to raise awareness about climate breakdown and the 150 species lost every day, according to recent estimates.
As a sister group to Extinction Rebellion, Rising Up! aims to empower families to be active in demanding a safer future for their children. From frontline activism to craft activities, all of their actions are family-friendly.
They join an increasing number of climate protests across the country, including Extinction Rebellion, Youth Strike 4 Climate and the recent Mother's Rise Up march.
Focusing on celebrating life with a carnival feel, the 'Carnival of Creatures' will feature musicians, costumes and animal parade puppets on loan from Handmade Parade and Global Grooves. Participants can meet outside All Saints Park at 1pm for a 1:30pm departure.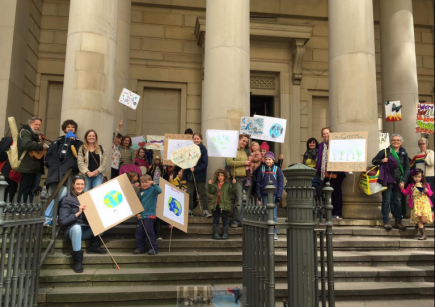 The parade will march under the slogan "let's love life, not lose it" following a recent UN report on biodiversity confirming that 1 million species are now at risk of extinction.
"Our lives depend on turning this around which is a heartbreaking thing to face as a mother," Rising Up! organiser and mum Rose Arnold said.
"There's a huge amount which we could do differently."
Rising Up! are demanding action to reduce all carbon emissions by 2025 establish a Citizen's Assembly. On a local level, demands for the council include no longer mowing and spraying grass, building on greenbelt land and destroying the habitats of endangered species.
"We have the bee as our city emblem and emblazoned over everything so let's make Manchester a good place for actual bees," Arnold said.
Rising Up! support families to get involved in climate action by organising meet-ups and actions that are designed to be fun, engaging and 'child safe.'
"The rate at which we are destroying our wildlife is terrifying and I am genuinely worried about what sort of future my children are going to face,"Jennie Gibson, 34, said.
"We need individual and societal action to tackle this issue – as well as doing my bit at home, I fully expect my local council to be playing their part in the protection of the living planet," the mum of two from Levenshulme said.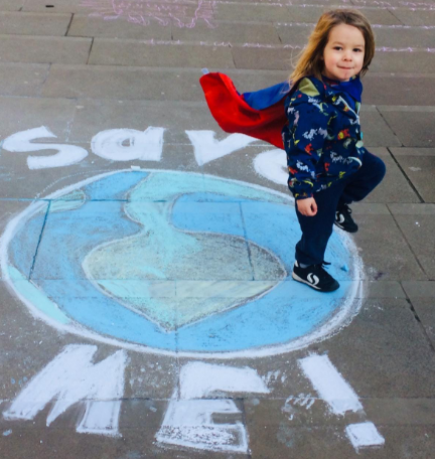 The families will be assisted and educated by cultural venues around the city. Over the half-term, Manchester Art Gallery are hosting four days of artist-led prop creation, along with a chance to talk to a climate scientist. There will also be activities run at Hulme Community Garden Centre and the People's History Museum.
On the day of the Carnival, families can congregate at Manchester Museum for storytelling, crafts and face-painting.
The following venues across Manchester will be offering free drop-in creative sessions to prepare for the Carnival of Creatures.
Hulme Community Garden Centre – Monday 27 and Wednesday 29 May –  12-3pm
Make a headpiece for the 'Carnival of Creatures' from recycled and natural materials.
Manchester Art Gallery – Tues 28, Weds 29, Thurs 30 and Fri 31 May –  1-3pm
Artists Carly Bainbridge and Jayson Gylen are on hand to help make a parade-worthy prop to bring to the 'Carnival of Creatures.'
As part of the Get Together and Get Things Done exhibition, families will be invited to join a collaborative project to show the power of uniting together and there will also be a climate scientist on hand to answer questions.
People's History Museum – Weds 29 May – 1-3pm
Join an artist-led session to make beautiful things for the 'Carnival of Creatures' using fabric pens and patch-making techniques.
Manchester Museum – Sat 1 June – 11-12:30
A jam-packed session with nature, art, face painting, a chance to make wings to wear in the 'Carnival of Creatures,' storytelling and play.