A Manchester actress and animal lover is baring it all in her bid to stop bullfighting – by protesting nude ahead of the famous Running of the Bulls.
Kate Laycy, 33, from Altrincham, will be taking part in the demonstration, organised by People for the Ethical Treatment of Animals (PETA), on July 5 in Pamplona, Spain – a day before the region's famous San Fermín festival.
The actress is one of a growing number of people who are opposing the practice of bullfighting and Kate will join a number of naked protesters, posing as bulls to expose the cruelty of fights.
"It's just really cruel and horrible," she told MM.
"They are left in the dark the day before they then get taken out into the arena where they are brutally stabbed for 'entertainment'.
"I was shocked to find out that, at this event, 48 bulls will be killed. Not one or two, but 48 which is horrific."
The Running of the Bulls is a tradition dating back to the 14th century when people would run amongst cattle being taken through the village.
Gradually gaining popularity it has become famous in Spain with Pamplona hosting the most notorious event, which even gets aired on national television and attracts tourists from around the world.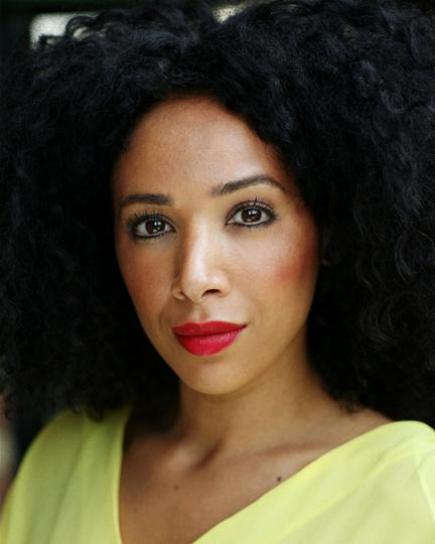 NAKED AMBITION: Kate Laycy is baring all to battle bullfighting (©Brandon Bishop with thanks)
The bulls that take part in the run are then used in the arena the next day and, as shown in PETA's video narrated by Spanish music superstar Charo, the animals are subjected to immense pain.
Bullfights can often last for up to 20 minutes during which time the animal is speared, stabbed and weakened until a matador attempts to sever the exhausted animal's spine with a dagger.
The bull sometimes drowns in its own blood prior to this happening or is dragged away still alive as its broken and bloodied body is taken to slaughter.
Backing for the fights comes from taxpayer's money and tourists often unwittingly fund the events when visiting the area.
"The events are funded by tax funds and also by tourists who go to these places and think they will visit not knowing just what it is like," said Kate, who was a finalist in PETA UK's Sexiest Vegan 2014.
"This is because they aren't aware of what actually happens at a bullfight and decide to go as part of the area's culture."
However, in recent years, popularity for bullfighting has begun to drop as the number of venues decreases and crowd numbers dwindle.
An Ipsos MORI poll last year suggested that 76 per cent of Spaniards oppose the use of public funds to support bullfighting and Catalonia recently became the first Spanish mainland region to officially ban bullfighting.
"The number of bullfights is dropping because of demonstrations like this one and people are becoming more aware of what is going on," said Kate.
"Hopefully, this protest can get people's attention because there is no need for bullfighting to still carry on."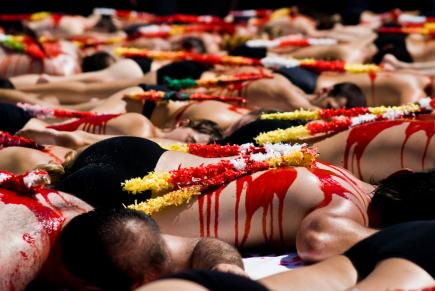 SEEING RED: An example of the blood-soaked protest that Kate will be participating in (©Ekinez Sortu with thanks)
According to the World Animal Protection charity, around 250,000 bulls are killed across the globe each year in bullfights and festivals.
And Kate hopes that by exposing all, she can expose the cruelty that goes on in bullfights.
"Over the next few years, I think and hope that bullfighting will eventually stop as there are a lot more places that are now against it than before – and that's all thanks to protests like this," she added.
"Tormenting and butchering animals can never be justified as entertainment.
"I'll gladly bare my skin if it will expose the cruelty of the Running of the Bulls and bullfighting."
Main image courtesy of Steven Depolo with thanks