The number of complaints against taxi drivers in Manchester City Centre has risen to over 100 every month.
A total of 1217 complaints against licensed private hire and hackney carriage drivers were received in the past year, rising from 1131 in 2017-2018. This figure has more than doubled in the past five years, with only 505 complaints recorded in 2014-2015.
The information was revealed in a Freedom of Information request submitted to Manchester City Council by Mancunian Matters. Some of the main reasons for complaints were fare route or meter issues, driver conduct and allegations of illegally operating outside licensing rules.
Councillor Rabnawaz Akbar, Executive Member for Neighbourhoods, told MM: "Manchester City Council prides itself on the high standards it demands for anyone wanting to drive a hackney carriage or private hire vehicle in the city."
"As one of the UK's busiest cities, a safe and reliable hackney/private hire sector is a vital part of Manchester's transport network.
"We are one of the few local authorities which still maintains a dedicated taxi licensing compliance service, and maintaining the standards which set it apart from others in the North West is a key priority."
One of the stand-out reasons for complaints was a 'disability issue,' which has more than doubled from 2017-18 to 2018-19.
An Office for Fair Trading report found that physically disabled people use taxis 67% more frequently than abled-bodied people. However, the latest national figures revealed that only 58% of all taxis were wheelchair accessible in 2017.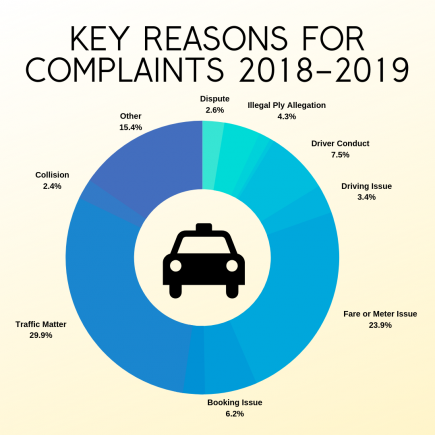 "Accessibility issues go largely unreported and that is one area where we would like to drive improvement across the sector," Akbar said.
James Taylor, Head of Policy, Public Affairs and Campaigns at Scope, said: "It's incredibly concerning that complaints have doubled – we hope that this is because more disabled people are speaking out and not due to a drastic fall in standards."
Manchester City Council's website states that all of their hackney carriages are accessible for wheelchair users.
Brian Hilton, Digital Campaigns Officer for the Greater Manchester Coalition of Disabled People, said: "Despite legislation being introduced in 2017 that specifically prohibits taxi drivers from refusing service or charging extra for wheelchair users, complaints are on the increase.
"We are aware there have been cases where taxi drivers have refused to accept fares from guide dog owners without good reason, which is completely unacceptable.
"More vigorous enforcement of existing legislation by the relevant licensing authorities is needed."
Over the past two years, allegations of illegal plying from licensed drivers accounted for more than 100 complaints.
It is illegal for private hire vehicles to accept fares which are not pre-booked in advance through an operator. Only licensed hackney carriage taxis are allowed to pick up customers on the street – also known as plying for hire.
"We are working hard to stamp out illegal ply-for-hire drivers who operate outside the council's strict licensing rules," Akbar said.
OPERATION AZTEC
Last year, Manchester City Council joined forces with Greater Manchester Police for a crackdown on illegal plying.
Over the course of a single weekend, the team discovered nine taxi drivers illegally picking up fares.
The operation, known as Operation Aztec, saw plain clothes officers pose as mystery shoppers, hailing private hire cars to request a journey on the spot.
Greater Manchester Police continue to carry out pro-active checks of private hire divers, which also look out for red light, speed and defect offences.
These figures, however, are only the number of complaints recorded by the Council. Discontent towards taxi drivers may be higher but not all complaints go through the Council's formal process.
#GMPSRTT, @GMPSpecials & @ManCityCouncil licensing conducted Op Aztec (taxi) checks last night @GMPCityCentre looking at private hire veh's illegally picking up fares. Numerous vehicles stopped & drivers reported for plying for hire as well as red light, speed & defect offences.

— GMP Traffic (@gmptraffic) February 10, 2019
"In recent years there has been a drive to encourage more people to report problems as and when they occur," Akbar said. "All complaints are treated with the same seriousness and we would always encourage passengers to contact us if their journey has not been a satisfactory one.
"If anyone feels that their journey was not up to scratch, they can submit a complaint to the council's licensing team by visiting our website which we hope, in time, will shape the future of the taxi industry.
"At the council we will always be our own harshest critic, but by taking on feedback from the fare-paying public, we are confident that our taxi and private hire services can only improve."
While the Council do encourage people to complain directly, many complaints brought against taxi drivers are dealt with internally by the firm.
Complaints received by local private hire firm Union Cars are predominantly about overcharging and delayed pick up. They are recorded and handled by management.
"Clients travelling regularly to the same destination find that fares vary from time to time, mostly due to road and traffic conditions," Mohammed Nasir, Manager of Union Cars, said.
"Sometimes if a client's fare differs from a similar journey last week, they believe this to be over-charging. The same applies when a driver's GPS re-directs them from the regular route to avoid queues or accidents.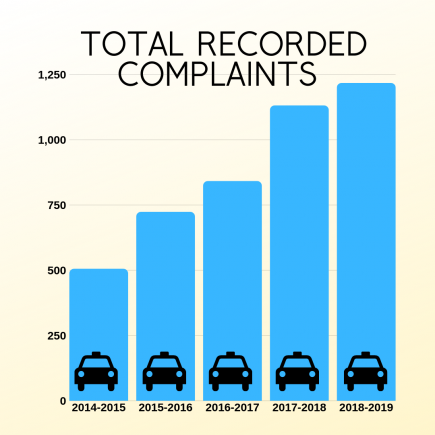 "We have found that our policy on complaints and safeguarding works extremely well as our computer system allows management to check every detail – from the initial booking to the client exiting the taxi," Nasir said.
The National Private Hire and Taxi Association, based in Bury, launched a 'driver safety' campaign last year to protect their drivers and help raise standards in the trade. Measures include a zero-tolerance policy at operator bases and a 'No Excuse for Abuse' window sticker.
"We are strong advocates for in-car CCTV cameras," Donna Short, a representative of the National Private Hire and Taxi Association, said.
"Whether mandated by the individual council or voluntary, we believe CCTV to be the most important deterrent to attacks against drivers (and passengers), plus it reduces false claims against drivers."
Image courtesy of Moneybright via Flickr, with thanks.