After the hashtag #ShoutYourAbortion was met with both celebration and controversy on Twitter, MM spoke to Manchester University's Women's Officer and a pro-life campaigner to get both sides of the story.
The #ShoutYourAbortion, which encourages people to share their experiences of abortion on Twitter, was started by US activists Amelia Bonow, Lindy West and Kimberley Morgan.
My abortion was in 2008. It saved my life and allowed me to escape an abusive, emotionally and physically violent man. #ShoutYourAbortion

— hi, is this meagan? (@mgnwrites) September 21, 2015
I could not have given that child the life it deserved. I would not have been the mother I want to be. #ShoutYourAbortion #IStandWithPP

— ~big soft mush~ (@softmush) September 20, 2015
It was a response to the US House of Representatives' ruling to remove $235billion of funding from reproductive healthcare organisation Planned Parenthood on September 18 – the legislation was defeated last night in the Senate.
After the initial vote, Ms Bonow wrote a Facebook status about her abortion in a Planned Parenthood clinic.
"The narrative of those working to defund Planned Parenthood relies on the assumption that abortion is still something to be whispered about", she said.
"Plenty of people still believe that on some level – if you are a good woman – abortion is a choice which should be accompanied by some level of sadness, shame, or regret.
"But you know what? I have a good heart and having an abortion made me happy in a totally unqualified way.
"Why wouldn't I be happy that I was not forced to become a mother?"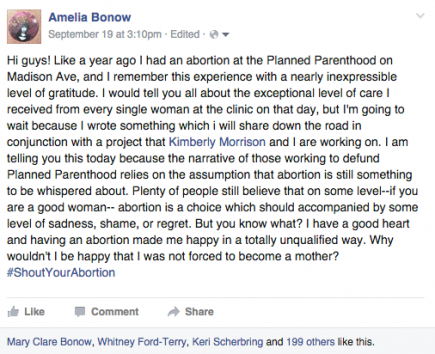 Lindy West shared the status on Twitter – with Ms Bonow's permission – launching a hashtag which inspired 70,000 tweets in four days.
The university's Women's Officer Jess Lishak praised the campaign for breaking taboos around abortion and the assumption that it is always a negative experience for women.
My birth mother put me up for adoption. Her autonomy was respected. I provide abortions b/c I respect that autonomy. #shoutyourabortion

— Leah Torres, MD (@LeahNTorres) September 20, 2015
I had an abortion when my son was 4 & I stand by my decision b/c it was best for my family #ShoutYourAbortion

— Samantha Updegrave (@scupdegrave) September 20, 2015
She told MM: "I think the campaign's great in terms of giving a voice and platform to so many women who have had personal experiences of abortion.
"The conversations and ultimate restrictions on women's rights to choose and autonomy over our own bodies are so often carried out by predominantly rich men who will never have to experience the issues.
"#ShoutYourAbortion is a really important initiative that breaks down the taboo and challenges the dominant narrative whereby women are assumed to have only negative experiences and feelings around having had abortions."
However, Pauline Lloyd, Chairman of the Manchester group of the pro-life charity LIFE, said that while abortion is nothing to be ashamed of it is 'an act of violence against your own body'.
She said: "From a personal point of view, from the point of view of LIFE, I don't personally agree that abortion is something to celebrate.
"It's not something to be ashamed of. It happens, and it affects people in different ways.
"What we've found, what we know from experience and counselling women who've had abortions, their partners, other people in the family who've been affected by what they've done, the majority of them are affected in some way.
"It's almost an act of violence against your own body. They're doing something unnatural."
My abortion was in '10 & the career I've built since then fulfills me & makes me better able to care for kids I have now. #ShoutYourAbortion

— Lindy West (@thelindywest) September 20, 2015
Ms West wrote in the Guardian: "There are no 'good' abortions and 'bad' abortions, because an abortion is just a medical procedure, reproductive healthcare is healthcare, and it is a fact without caveat that a foetus is not a person.
"I own my body, and I decide what I allow to grow in it.
"Telling our stories at full volume chips away at stigma, at lies, at the climate of shame that destroys the lives (sometimes literally) of women and girls and anyone anywhere on the gender spectrum who can become pregnant, especially those living in poverty, in rural areas and in hyper-religious and conservative households."
So you made bad life decisions and didn't have to own up to them? Congratulations, self serving whores. #ShoutYourAbortion #ShoutYourMurder

— Scarlett O'Stonewall (@ScarlettOStone) September 22, 2015
Its one thing to have had an abortion. Its another to #ShoutYourAbortion. The hashtag for the sick and soul-less. #ShoutYourMurder

— Kev Джейкокс (@kevjacox) September 22, 2015
The hashtag has attracted hostility from anti-abortion activists, who have started the hashtags #ShoutYourMurder to condemn abortion, and #ShoutYourAdoption to propose adoption as an alternative.
Ms West reported receiving death threats and pictures of aborted foetuses on Twitter.
But Ms Lloyd added that LIFE did not support sending threatening messages to #ShoutYourAbortion activists.
"We just don't do that at all," she said. "We just don't feel that that's necessary or right."
Main image courtesy of David Shankbone and Elvert Barnes, with thanks.