This pub manager knows how to handle bars… but now he's going to have to master a set of handle bars.
The pedal-pushing pub manager will cycle to all of Manchester's 124 Joseph Holt pubs collecting scratch cards to raise money for the new Christie cancer centre later this month.
The fundraising journey, thought up by pub manager Ian Slamon, is aiming to earn over £15,000 for the new integrated Procedures Unit at the Withington Hospital on August 23-25.
Each of Independent Manchester Brewer Joseph Holt's pubs will be allocated a scratch card, where lucky winners will be rewarded with one or two gallons of any Joseph Holt beer.
Ian, Manager of the Lord Nelson pub in Urmston, told MM: "Everybody knows somebody who has been touched by cancer and we all have to do our best to try and eradicate it."
The award-winning brewers hope that, by staking at either 50p or £1 per card, pub customers will help raise £15,376 towards the Joseph Holt Centenary Appeal.
The brewery is eyeing for a gigantic £300,000 with around a third of this figure already raised.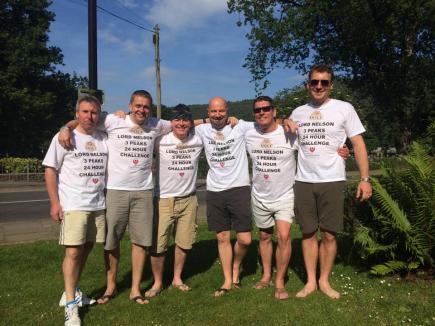 CHARITY VETERAN: Ian Slamon (second r) climbed the Three Peaks for The Christie
Funds will provide The Christie Hospital in Withington with a reception area for an exciting, newly proposed the new unit, to be built above the main entrance.
Joseph Holt has already been toasted for its charitable work after the Chief Executive Richard Kershaw's PA Anne Berry bravely completing the Morecambe Bay Walk Challenge this month, raising £1000 for The Christie.
The company also held a charity bike ride in June with cyclists pedaling 1,123 miles from Cherbourg in France to Esbjerg in Denmark, topping up their total with another £30,000.
This year marks a century of fundraising for The Christie Charity for the brewery.
Sir Edward Holt raised a remarkable £20,000 (equating to £2.5 million today) in 1914 to help build the Christie-forerunner Holt Radium Institute, one of the first cancer treatment hospitals in the UK.
This year, Slamon's Lord Nelson pub is trying to match the modern-day equivalent of £20,000 with a series of cash-gathering feats.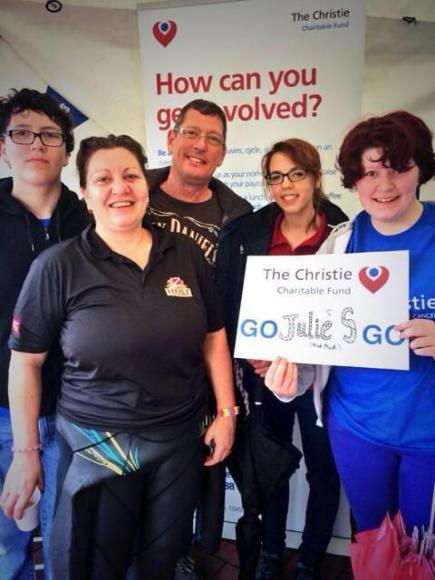 UNITED EFFORT: Ian's wife Julie (front l) has hit the water to help out
"My wife completed the Great Manchester swim at Salford Quays, I completed the Three Peaks Challenge in June and I am in training for my next challenge in September – Kilimanjaro," said Ian.
All in the name of The Christie charity, Slamon will be tackling Africa's highest peak to raise as much money as possible.
The Christie is a leading specialist hospital in cancer care research and education, committed to helping those affected by cancer both now and in the future.
As one of the largest hospital charities in the UK, The Christie Charity donates 83p of every £1 directly to patients, providing greater services beyond NHS funds.
To be in with a chance of winning some of Joseph Holt's finest, as well as supporting Ian and the Centenary Appeal, ask at the bar of one of the brewery's pubs for a scratch card.
Images courtesy of Facebook with thanks