For most football fans, a trip to the National Football Museum in Manchester is a special day out to soak up the sport's rich and varied history… 
But rarely will a visit be as memorable as it was for the 10-year-old Bury fan who walked away with a new Guinness World Record.
With CBBC's MOTD Kickabout in attendance to record proceedings, presenter Bobby Lockwood was the first to attempt the "most rebound half volleys in 30 seconds", with his best effort of 25 exceeding the minimum target of 20 to qualify for the title.
But younger participants showed there is plenty of footballing talent in the North West with Laurie O'Brien setting a new record of 28.
Proudly sporting his club colours, a confident Freddie Hughes then stepped up to the line one metre from the Football Flick unit and smashed the record with 34 before facing a long and agonising wait with his dad to see if anyone could better his attempt.
One would-be record setter came close with 33, but other challengers quickly failed on their three permitted attempts leaving Freddie to walk away with a certificate from Guinness World Records recognising his title-winning achievement and his own Football Flick unit from the event's organisers, but only after he had been interviewed live for CBBC's Newsround with football freestyler and multiple Guinness World Record holder John Farnworth.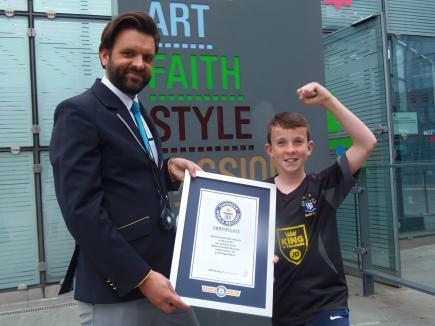 RECORD BREAKER: Freddie, 10, with his Guinness World Record certificate
Farnworth also picked up his sixth title for "most rebound volleys in 30 seconds" with 25 – another new title far exceeding the minimum target of 10, but the 29-year-old was keen to focus on Freddie's achievement and the purpose of the event showcasing the Football Flick unit than his own success.
"I can't even imagine how excited he must be," Farnworth told Mancunian Matters.
"I remember when I got my first record. I was 21 and that was amazing, but for a 10-year-old…his friends are going to be so jealous.
"I think they're just going to want to see it because not many people hold records."
.@buryfcofficial fan Freddie smashing his pb on #FootballFlick! High fives all round! https://t.co/Pc0ET1AZJv

— Nat. Football Museum (@FootballMuseum) August 25, 2015
Tuesday's event in football-mad Manchester was a year in the making with an aim of getting more children active and allowing them to work on their ball control with a portable, purpose-made device.
Before the world record attempts, Farnworth showed what can be achieved with hard work and dedication with his amazing freestyle skills before football impersonator Darren Farley introduced the excited crowd to Wayne Rooney, Steven Gerrard, David Beckham and Roy Hodgson.
Farnworth, from Longridge near Preston, has travelled the world showcasing his talents with a football since he took a serious interest in freestyling 12 years after being inspired in Manchester.
He is also a Football Flick ambassador and is determined to help children across the country get active and show just what they can achieve with a football.
"I got involved to help them out and give it a presence in the freestyle world and do videos, really just to play around with it and show what's possible with the ball and the unit," he added.
"It was created to get kids active, out playing, improving their ball control – and it is working.
"Absolutely [it's improved my skills] – it can improve anyone's skills.
"We have found some amazing studies. We had a lad come in and he was doing two or three and then he was stuck to the unit for half an hour and was mastering it, so I think everyone can learn something.
"That was what we wanted to do. A year ago, we sat down and said 'what can we do?'
"We thought if we can get someone – like a youngster or a mum or dad – off the streets to set a world record, how cool would that be?
"So that's why we did it and to inspire other people to show what they can do through practice."
Pictures courtesy of the National Football Museum, with thanks.