Five ordinary Mancunians have been hailed as heroes for going above and beyond the call of duty in their dedication to the Manchester Dogs' Home.
Described as 'the unsung heroes of our country' by awards host Amanda Holden, last night's glamorous London awards ceremony saw Manchester Dogs' Home volunteers pick up two awards for bravery and committment to the centre.
Builders Aydee Dixon and Danny Fletcher took home the Outstanding Business Award of the Year for their generosity in rebuilding the home for free.
Collecting a special recognition award for their bravery in running into the burning building to rescue twenty dogs, Jason Dyer, Dean Rostock and Danny Vere downplayed their courage, saying they 'didn't think, just ran'.
The three men who ran into the fire appeared on ITV's Good Morning Britain earlier today when they downplayed their bravery to the presenters.
Jason Dyer, 41, his nephew Dean Rostock, 25 and stepson Danny Vere jumped a fence and kicked open kennel doors after hearing the dogs barking as the fire raged through the home on September 13.
Last month the trio were rewarded by Simon Cowell, who gave them an all-expenses paid holiday to the Dominican Republic from his own pocket after a suggestion from a Twitter user.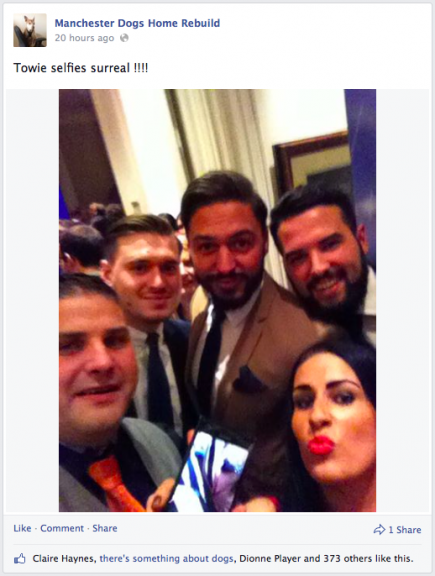 PHOTO OPP: The builders didn't miss the chance to pose for a celebratory selfie with the TOWIE cast (©Dogs Home Rebuild, with thanks)
Celebrities Amanda Holden, Alexandra Burke and Denise Welch as well as members of the TOWIE cast were present at Wednesday's star-studded awards ceremony.
Builders Aydee Dixon and Danny Fletcher of Powerhouse Property Services were overjoyed to receive the Business Award of the Year.
Congratulations for the duo poured in after the post on social media.
"If anybody deserved this award it's you two guys. Your lead has inspired others to pitch in and help with the rebuild of the MDH. Many, many congratulations," said Christine Robertson.
Hayley Stott wrote on Facebook: "Thankyou so much for everything you have done the whole world now knows who you two are and all the hard work you have done to rebuild MDH. Everybody is so proud of you! And all those doggies up in heaven will love you all the more for what you have done. True heros x."
Olwen Harper added "FANTASTIC! I can now uncross everything lol Well deserved x."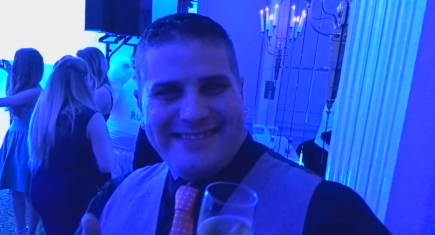 WE'RE ALL WINNERS: Manchester builder Aydee Dixon took home an award last night for his generous contribution to the home (©Dogs Home Rebuild, with thanks)
They pair also met dog lover Paul O'Grady who promised to attend the grand opening of the new dogs home once it is complete next year.
The judging panel included wildlife expert Bill Oddie, presenter Jenni Falconer and TV vet Joe Inglis.
All images courtesy of Dogs Home Rebuild, with thanks