The Manchester artist who designed Elbow's début album cover is writing an open letter on billboards to question whether, in the age of modern technology and a 24-hour media, society is really progressing.
The mastermind behind the Dear Progress project is Micah Purnell who has created the open letter which will be displayed over a two-week period, started March 24, on 21 billboards across Manchester city centre.
The text-based artist and graphic designer told MM how consumption overload influenced his work.
He said: "Growing up in Manchester I noticed advertising and media working through like a little sweep, especially corporations, in pursuit to get in my pocket.
"This is just my response to what I noticed."
Purnell revealed that the project not only refers to advertising, but also technology such as the mobile phone.
"I find myself constantly asking people to put their phone away," he admitted.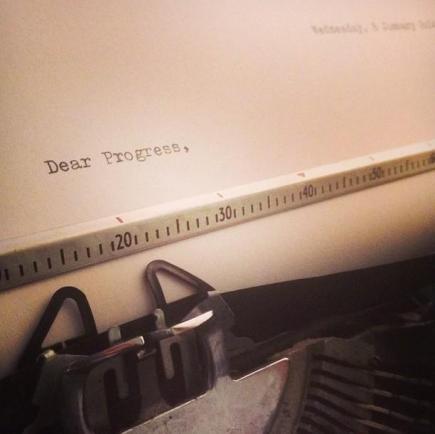 PROGRESS? Micah questions whether we are better off now
"Even for myself, I started to make sure I put my phone away when I get home or turn off my internet connection.
"I've noticed I am more present with my family now".
The artist hopes to generate an open dialogue about the consumer challenges faced by the West and issues such as identity, fantasy and presence.
He said, "I'm not saying all media and technology is bad. It has brought some good for example allowing us to keep in touch with others, connecting us with the rest of the world.
"But (technology) is taking away from what really matters at that moment. It's about being conscious."
He argued that media and consumption has very much become 24/7, a contrast from when television and radio was originally introduced.
"It seems like it has come on all of the sudden, but it's not it's been gradual. There is no rest day anymore as the pace of life has increased."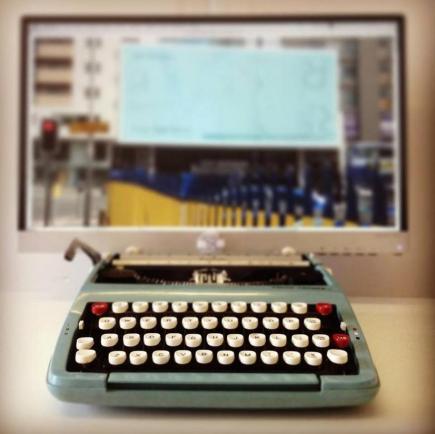 VINTAGE: Harping back to a simpler time
The work itself is crafted using a 1960's Smith Corona Corsair typewriter a nod towards its decline in the 19770s and the introduction of the technological revolution
Micah admitted he wanted to use this project to be a little more cryptic 'unlike advertising itself', compared to his previous work which was more of a response to the theme.
Much of his work has been inspired by the Oliver James book, Affluenza.
He said: "I admired the research into the idea that mainstream media and advertisers push the concept 'accept this and you'll be happier'.
"But what was actually found that it often drove people into anxiety and depression."
Thousands of beer mats, flyers, posters and badges will accompany the Arts Council of England-funded project and will be found in bars and pubs around the city during the outdoor exhibition. 
Pictures courtesy of Micah Purnell, with thanks