Greater Manchester Police are investigating whether Rochdale Council members covered-up sex abuse claims linked to former MP Sir Cyril Smith over the course of 30 years.
Fresh information has come to light following the release of a book which condemns Sir Cyril to multiple counts of sexual abuse at Knowl View residential school, between 1961 and 1995.
GMP were already investigating the abuse allegations but with new information suggesting there was a cover up, they are examining whether or not to widen the inquiry.
Rochdale Council is set to launch its own QC-led inquiry into the role played by council members and council staff in relation to Knowl View.
Policing authorities received 144 complaints concerning Smith, but prosecutions were allegedly blocked because of his political status.
However the latest developments have forced officers to open up a new enquiry with regards to Sir Cyril using his position of power to abuse children.
The Double Life of Cyril Smith, written by Labour MP Simon Danczuk and his researcher Matt Baker, has long claimed that Smith's political status saved him from prosecution.
The authors insist that Smith's sexual abuse of vulnerable boys – some as young as eight – was covered up for over four decades and that officers were encouraged to drop investigations.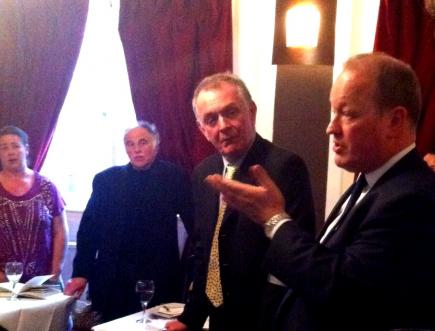 EXPLOSIVE NEW BOOK: Rochdale MP Simon Danczuk at the launch of Smile for the Camera, The Double Life of Cyril Smith
Chief Constable Sir Peter Fahy said: "Greater Manchester Police has previously launched an investigation into complaints of abuse at Knowl View. 
"A number of new victims have recently come forward and we are looking to identify new suspects. 
"As a result of the publication of the book, and the subsequent press coverage, we are now reviewing whether there is evidence to justify us opening a criminal investigation into any previous allegations which were not pursued. 
"We note the announcement of the inquiry by the independent QC, announced by Rochdale Borough Council.
"We will liaise with the QC to make sure that this inquiry does not compromise the abuse investigation and to receive any material relating to our criminal investigation. 
"Our review will be carried out by experienced officers from our Serious Crime Division. It is in the nature of sex abuse investigations that it takes considerable time to gather evidence from people who have been very damaged from the experience and clearly this is more difficult when matters occurred many years ago. 
"We are now appealing for anyone who has information in relation that can assist either investigation – the complaints of historic abuse or a possible cover up – to contact Greater Manchester Police.⿝ 
Speaking at the book's official launch, Mr Danczuk said: "He was quite evidently a member of a network of paedophiles that operated in and around London and in and around Westminster.
"There needs to be a public enquiry where people are called to give evidence under oath, not just around Smith but around the whole cover up and around the other senior figures in government that clearly worked together.
"I think this book is an important piece of the jigsaw that will piece together to finally nail many of those abusers."
Smith was originally a Labour councillor in Rochdale and later a Liberal, then Liberal Democrat, MP for the town from 1972 to 1992.
The first investigations into Smith's activities were carried out in 1970, 1998 and 1999, and Mr Danczuk called for further inquiries into the alleged abuse in November 2012, after 12 men reported sexual abuse.
The Crown Prosecution Service later admitted that the MP should have been charged more than 40 years ago.
Cyril Smith, who was Rochdale MP for 20 years, died in 2010. 
Image courtesy of Channel Four News via YouTube, with thanks.