Manchester is the home of the world's largest tutu after charity Prevent Breast Cancer teamed up with Stagecoach to wrap a pink frilly frock around a bus.
The attempt took place at Piccadilly Gardens as part of Prevent's 'Take on the Tutu' campaign: a series of fundraising events which also coincide with breast cancer awareness month in October.
The record had never before been attempted but the 26m tutu easily stretched around the bus, far exceeding the minimum requirement of 3m.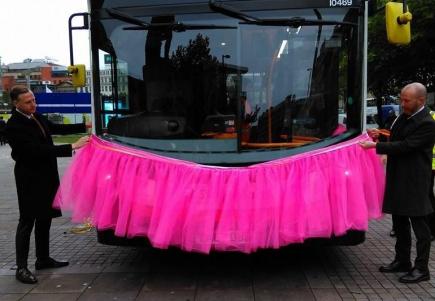 FIGHT AGAINST CANCER: Prevent's patron Gordon Burns hopes the world record will attract attention in the war against the illness
"It's absolutely fantastic to have a world record. It's all about attracting interest and publicity so that people become aware of the fight against breast cancer and what Prevent Breast Cancer charity does," said Prevent patron Gordon Burns.
"The more money we can raise, the better."
We're busy helping @wearepreventBC and @StagecoachGM set a #GuinnessWorldRecord for the longest pink tutu today… pic.twitter.com/tHB0QCw4FT

— Peppermint Soda (@Peppertweets) September 27, 2016
Manchester-based Prevent was founded in 1996 under its original name Genesis and is the only UK charity which focuses on preventing breast cancer rather than finding new drugs or cures.
"If like us you believe that the answer to breast cancer is not more treatment but trying to prevent it in the first place then we hope that you would support the charity," chairman Lester Barr told MM.
"Whether it's a marathon or a skydive or a triathlon, do it in a pink tutu and use it as a means of raising money for Prevent Breast Cancer!"
Stagecoach, which has around 2,000 staff, has supported Prevent over the past year as its nominated charity. 
"Prevent Breast Cancer has a large established presence at Wythenshawe Hospital and in the Manchester area and we feel it's important to support those charities that give the most back to the communities where they're based," said Stagecoach managing director Chris Bowles.
"We've done a lot of things to raise funds for the charity but this has been one of the most interesting and the most fun."
An adjudicator from the Guinness World Records also attended the event to verify the attempt and to present an official certificate.
More than 50,000 women are diagnosed with breast cancer each year in the UK and one in eight women will develop it at some point in their lifetime.
To get involved in the 'Take On The Tutu' campaign call 0161-291-4400 or register at www.genesisuk.org