For the first time in 18 months young people took to the streets to protest about climate change in Manchester city centre.
Last week's protest in St Peter's Square was part of the Fridays For Future campaign – an international movement set up by environmental activist Greta Thunberg in 2019.
The campaign's main purpose is to put pressure on governments across the developed world to reduce fuel consumption.
The pandemic forced student activists off the streets to online forums, with last March's Fridays For Future strike held on the internet.
With restrictions lifted live protests can finally take place.
Mancunian Matters went down to the rally to see what the protests were all about.
The Protests
Dressed in a polar bear costume for the whole afternoon, longstanding Greenpeace activist Martin Porter said: "Greenpeace is 50 years old and I've been a part of it for half of its lifetime.
"We need as many people as possible to back decisive action. Greenpeace has beaten commercial whaling; it's got Antarctica in to a world park. Now, the big one is to beat climate change."
There were also a number of students who had set up stalls to hand out leaflets. One of them was Manchester Metropolitan student and Extinction Rebellion activist Emily Gunston.
"We've really been trying to get more people in our student's group," said Emily.
She added: "I am currently studying environmental science, and the course has taught me that we really need to take action.
Next to Emily was young protester Dan Wright, who added: "I work at Patagonia in Manchester, and for the day I've closed the store on King's Street to see what this is all about.
"I think the general awareness of it [climate change] is good."
He added: "It's a hot topic at the moment and at the top of most political agendas, events like this reinforce this importance.
Judy Paskell, 71, who was also at Friday's rally said: "We will be back in St Peter's Square again on Friday 5th November with the students.
"15 years ago, I became aware that this was the most urgent problem facing humanity."
She added: "I went on my first demo in the 1950's, and I wasn't even ten then. But there's no doubt this one is the most urgent."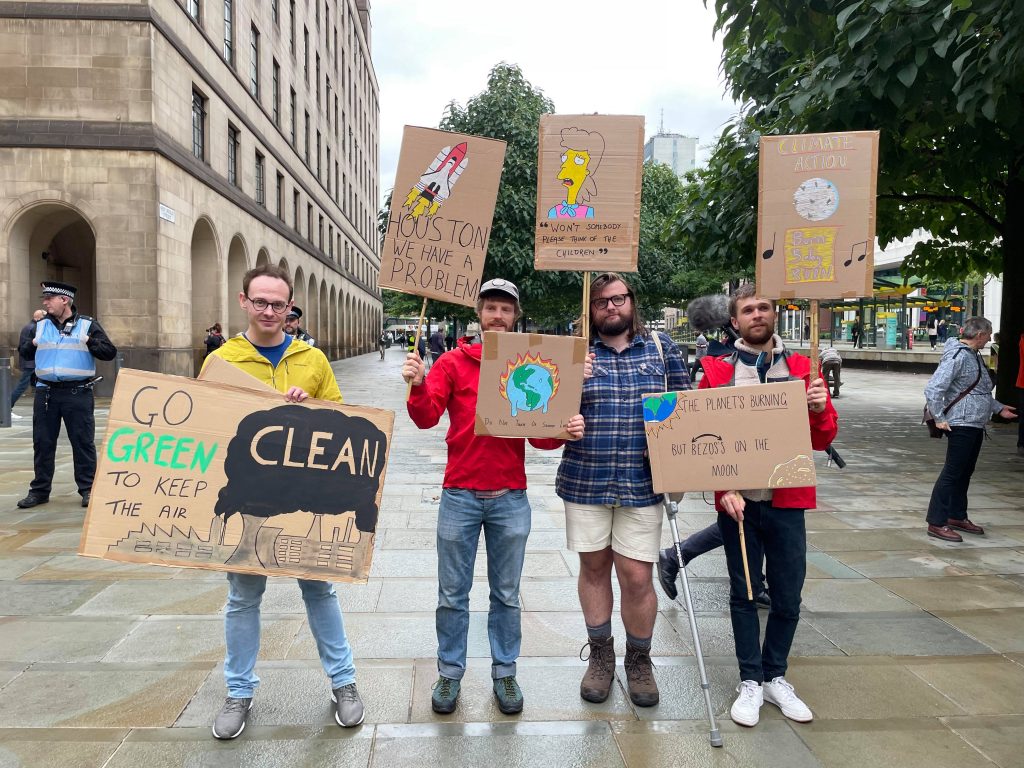 Analysis
Under Theresa May, Britain became the first nation to enshrine in to law a commitment to reach net zero carbon emissions by 2050.
Since replacing her as leader in 2019 Boris Johnson doubled down on the policy.
The prime minister even recently told world leaders at the United Nations General Assembly to "grow up" and act more decisively on climate change.
Although critics argue Britain, like other rich nations, are not moving fast enough, the UK reduced carbon dioxide emissions by 35% between 2005 and 2018 – 1.8 times faster than the EU average.
Nonetheless, per capita emissions in emerging economies have sky rocketed during the same period – offsetting a large chunk of any progress. 
To agree a plan to tackle climate change, thousands of delegates including heads of state, experts and campaigners will convene in Glasgow this November.
The UK will hold the presidency of the United Nations Climate Change Conference (COP26) in two months' time.
The talks are the biggest of its kind since the Paris Agreement in 2016.