Three local politicians will come head-to-head when they present their parties' education manifestos to the public in preparation for May's general election next week.
The Education in England After 2015 debate is crucial given last year's huge disparity in GCSE results between the ten Greater Manchester boroughs – with a gap of 25% between the highest and lowest performing areas in the region.
Jonathan Reynolds, Labour's MP for Stalybridge and Hyde, will be one of the politicians presenting his views on the current education system on Tuesday.
He will be joined by Liberal Democrat representative Lisa Smart, the Prospective Parliamentary Candidate for Hazel Grove, who will also share her thoughts on schooling.
Ms Smart said: "Education is the reason I got into politics.
"As a Liberal Democrat, I am committed to protecting the education budget from cradle to college and I believe that every child deserves to be taught by a qualified teacher."
Conservative member Baroness Susan Williams of Trafford, who formerly led Trafford Council, is also set to present her education manifesto.
Baroness Williams said: "I would like to see Manchester's state schools become national competitors in educational excellence, just as their private counterparts are."
She added: "The debate on education is such an important one because it is the key to the fortunes of the next generation."
Trafford was celebrated for its excellent GCSE results last year, which put 71.4% of students at having attained five or more A*-C grades – much higher than the national average of 68.3%.
Salford, however – just a 20 minute drive away – saw almost a quarter fewer students reach the same target, with less than one in two (46.5%) youngsters in the city achieving 5+ A*-C grades at GCSE. 
With large improvements to be made across Greater Manchester to bring the underperforming regions up to Trafford's level, Baroness Williams warned that there is a risk that talented teachers are being drawn to the south Manchester borough.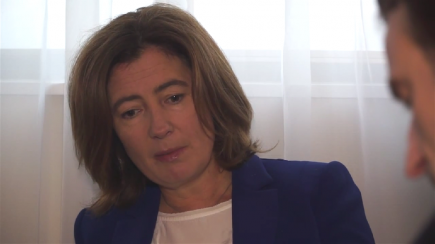 'SUCCESS BREEDS SUCCESS': Baroness Williams warned that the lure of Trafford may create more of a disparity in education standards across Manchester (© Sajjad Karim, via YouTube, with thanks)
"There is certainly a view that in attracting talent in Trafford's teachers, success breeds success and teachers are drawn to Trafford," she said.
"The joint work between Trafford and Manchester schools will hopefully yield results, as will the new freedoms for schools to become academies – giving them autonomy over the curriculum, budgets and discipline."
A report released by Ofsted in 2014 also highlighted the disparity, revealing only 36% of Oldham pupils go to good or outstanding schools, while at the same time Manchester High School for Girls was placed as the 57th best school in the UK based on 2013 GCSE results.
Some of the problems surrounding education have recently been addressed after Manchester was given £138million to solve the issue of overcrowding in schools, with Oldham taking £15.4million, an 11% share of the region's windfall.
But despite this, there are still unsolved issues including higher education funding and youth apprenticeships which are expected to be discussed at the upcoming debate.
The role of teachers and local authorities in the running of schools are also predicted to be key areas debated by the three politicians.
Baroness Williams commented: "I am keen to discuss the progress of the free schools and academies that were set up under this government."
"I am keen to discuss selective education, autonomy for schools and the challenges ahead."
The debate follows a number of events last organised by the Manchester Institute of Education (MIE) at the University of Manchester, which have explored a number of issues including the reduction of socio-economic inequalities in education, teacher training and the way schools are governed.
Open to the public, the Education in England After 2015 debate will be held in the Samuel Alexander Lecture Theatre on Oxford Road at 4:30pm on Tuesday March 31.
Image courtesy of Don Harder, with thanks