Stockport County provided a matchday with a difference to a lifelong Manchester United fan and his three sons last weekend, after they were denied the privilege of being able to sit together at Old Trafford.
Martin Emery, from South Wales, launched a campaign against the world-famous club after being told it wouldn't be possible for him to sit with his elder disabled son Jordan and two younger sons Ethan and Zac.
Jordan is wheelchair bound due to suffering from a number of medical conditions and severe learning difficulties which require 24/7 care, with United denying the families request to sit together due to stadium 'safety protocols'.
But last Saturday, the Conference North side welcomed the family with open arms for their final home fixture of the season against Harrogate Town, which coincided with Jordan's 18th birthday.
"Seeing the boys together at the football was fantastic for me –  to us its about making memories," Martin told MM.
"The boys got a great Saturday afternoon at the football firmly in their memory banks thanks to Stockport County.
"It's a funny thing football, and although it wasn't Manchester United, we all got really stuck into supporting the club."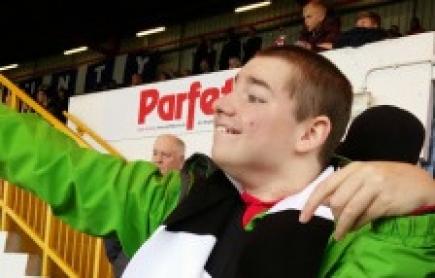 COME ON COUNTY: Jordan getting involved in the game
Jon Keighren, Director at Stockport County FC, had originally contacted the father-of-three over Twitter after becoming aware of his online campaign and personally invited them to the club.
Martin, originally from Denton in South Manchester, had initially been advised by United's disability liaison officer to take his business elsewhere and listed other clubs to visit including Rochdale, Oldham and Stockport.
Upon their arrival at Edgeley Park, the family were initially directed to a parking spot that had been taped off specifically for them, which even included a sign with their names on.
And after entering the club shop to collect their tickets, Jordan was presented with a bag containing a birthday card signed by all the players, a picture frame, a scarf and badges.  
Ethan and Zac were given a bag each too, which contained shirts, scarves, badges and keyrings.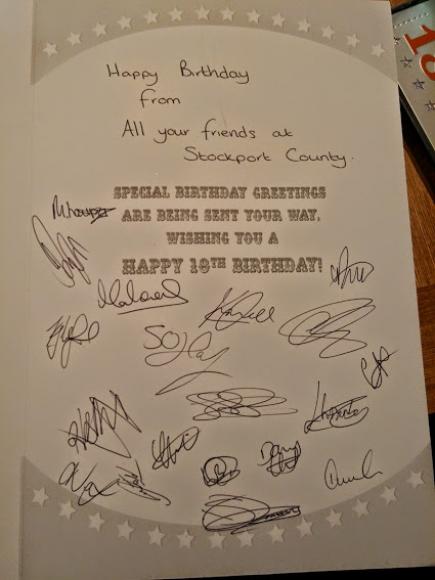 HAPPY BIRTHDAY: The club gave Jordan a birthday to remember
"The kids were already excited, but now they were electric," Martin said.
" A member of staff lead us up to our seating area and was great with the two younger kids on the way too.  
"Even the wife, who hates football, was smiling.  We sat in our seats and got ready for the match together as a family."
Martin explained that all the little touches made them feel welcome at the club as a family, something which was lacking from the set-up at United.
"When I was sat down and looking around, what was very clear at Stockport was that family matters," Martin said.
" Kids are the future – they are the life of a football club, and without getting them involved a club will die.  
"Looking around the ground you can see this is something the club care about – there were mums and dads with kids all over the place."
Martin explained that Stockport had provided a day to remember and that he would definitely be back sometime in the near future.
"Since starting taking the two younger children to Old Trafford, one question has been constant from our six-year old son: 'When can Jordan watch the Football with us Dad'
"Well I'm pleased to say that day finally came this weekend, although it wasn't at Old Trafford.
"Thank you Stockport County for a amazing day and thanks for showing that football is about family, not money."