Following Loneliness Awareness Week, national disability health charity Sense is urging the government to make real changes to tackle loneliness for disabled people.
Sense published their 2021 report highlighting the fear and anxiety surrounding disabled people in the UK and the barriers they face in public.
The report, Left out of life: Inclusion in Local Communities, revealed that over half of disabled people in the UK are fearful of going out in public, since the pandemic, due to health concerns.
Richard Kramer, Sense Chief Executive, said: "Our recent research shows that 61% of disabled people experience chronic loneliness and 70% feel that social isolation is affecting their mental health"
The concerns stem from the cuts that have been made on mental health services during the pandemic and the barriers that disabled people face in public spaces.
The report shares the stories of disabled people affected by loneliness and calls on local communities to ensure Covid adaptations are made with disabled people in mind.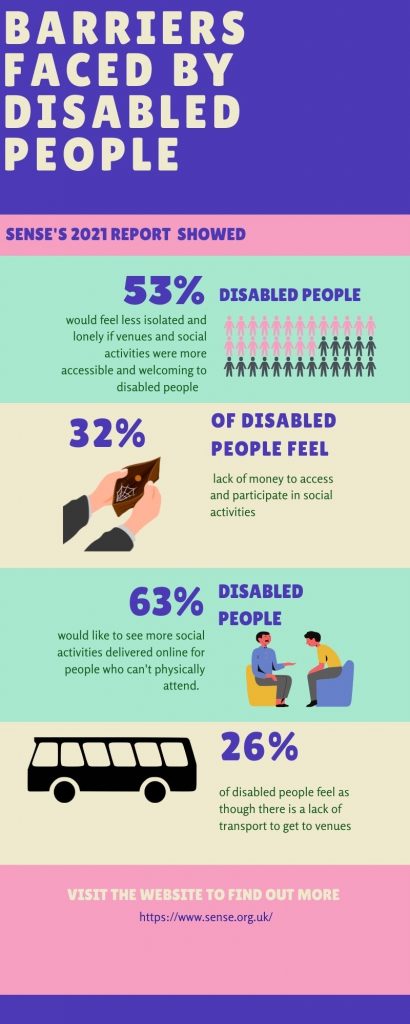 Bethany is deafblind and is featured in the report and speaks about how she has felt particularly isolated during the pandemic.
She said: "I have worries that my son is missing out on lots of activities and his social skills may suffer as I am not able to take him to moms and toddlers groups unless I am supported by my family.
"Everywhere is set up for people who do not have sensory problems."
People featured in the report have outlined ways in which communities can be more inclusive and the positives of doing so.
An anonymous person in the report said: " I have had many positive experiences, especially at my local supermarket – the staff are amazing.
"One checkout lady is learning to sign and each time I go she tries out a new sign on me and I teach her a rude one."
The report highlights that disability awareness is key to ensuring that local communities feel inclusive.
The research showed 36% of disabled people felt that greater disability awareness and understanding from the general public would make them feel a stronger connection to their local community.
Sense is now calling on the government to tackle this issue and implement the measures needed to overcome these barriers.
To find out more about what you can do to aid disabled people in your community, visit the Sense website.