People from across Manchester will be giving up the comfort and warmth of their beds this winter to brave the cold for one night as they take part in a charity Sleepout event.
More than 300 brave fundraisers will take part in the event, organised by The Booth Centre, to raise money and awareness.
This year will be the fourth in a row the event has been run by the centre, who are one of the country's leading day centres for homeless people.
Amy Hinks, development manager at the Booth Centre, told MM: "There are two aims to the Sleepout. One of those is to raise awareness of homelessness.
"The second aim is to raise some money for the charity so that we can continue to give support, advice and training to people who need our help."
The Booth Centre offers a range of services to help those who have fallen on hard times, from basic cleaning facilities such as showers and fresh clothes, to training classes in English and job search advice.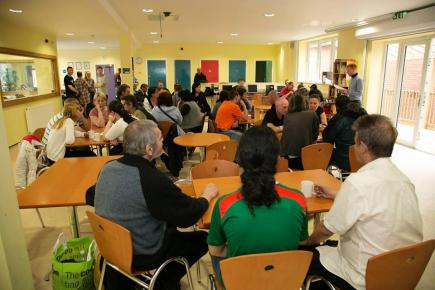 HELPING HAND: The centre gives care and support to the city's homeless
The Sleepout, which will take place outside Manchester Cathedral on Friday November 7, will allow those participating to experience just a tiny part of what life is like on the streets for so many.
Each day more than 170 people – around a third of whom will have slept rough the night before – visit the centre seeking help or shelter.
Many of those will be battling alcohol or drug abuse with many more suffering from some form of mental illness.
One person swapping their bed for a sleeping bag this month is Samantha Wilkinson, who has befriended Sean and his dog, Mr Bruce, just one of many rough sleepers struggling to get by on the city's streets.
"They're actually on my walk home and I walk past them every day," said the 26-year-old recruitment consultant.
"You're not supposed to give people money so instead I give them food or a coffee and through that I have just got talking to him.
"They are people too. They're not going to rob you they're just asking for some help and someone to speak to."
Last year a total of £60,000 was raised by the event to help the centre, which in 2010 came second in the National Day Centre of the Year awards.
And Samantha, who has already raised more than £500, is intent on helping beat that target – even if it means getting wet.
"It's probably going to be raining," she laughed. "I'm looking forward to it but it's going to be really cold being in November but I just have to sleep rough for one night.
"Some people though do it for ten or more years, which is just hard to imagine."
Both Samantha and Amy believe that homelessness is becoming more of a problem and that people are not fully aware of the issue.
"The council conduct a Rough Sleeper Assessment each year, which is essentially a head count on one night of the number of people sleeping rough on the streets," Amy said.
"This is not necessarily the most accurate way of recording the number of rough sleepers as it only counts those who can be seen and also only counts those who are out on that particular night.
"For example, the count for 2013 was 24, but in reality this could be doubled for the number of people sleeping rough in any one night."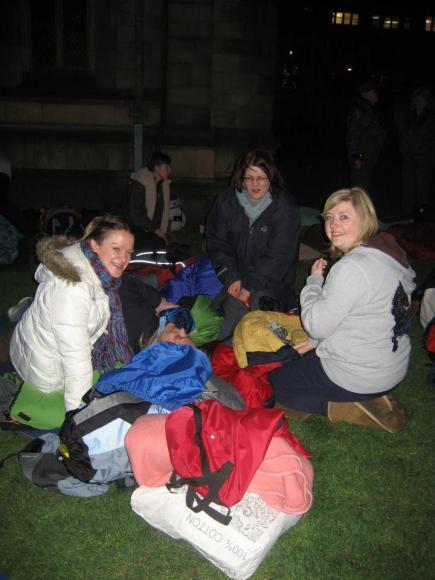 IN YOUR SHOES: Fundraisers experience a tiny part of life on the streets
Last year alone at the centre, 79 people gained qualifications, 46 people undertook work placements there and 35 people were placed in employment.
And Samantha is adamant the centre can help others, including Sean.
She said: "The next time I see him I'm going to try and get him involved as it will really help him.
"But he is just one example of many people who are living in that condition as on the same street when I see Sean there are at least five or six other homeless people.
"They could be there because of one bad decision, I mean we all make mistakes, but they have not been that fortunate.
"It is a big problem and most people do not see it."
To find out more about the event and the Booth Centre, click here, or you can fund Samantha's Sleepout efforts by clicking here.