Happy Mondays star Bez promised a 'political revolution' at the launch of his general election bid in Eccles last night.
Bez, real name Mark Berry, is who intends to run for MP for Salford and Eccles next year and was revealing some of the Reality Party's key aims.
These include free drinking water, energy and food for everyone, free public transport and rescuing the national health system.
Bez also promised to save politics from the 'criminals' currently offered as voting options during the manifesto at Wangies pub on Liverpool Road.
"In a bit of an angry rant, I threatened to run for Salford," he said. "I think we're now going to run for the whole country, because this is a true revolution.
"We want proper change. Let me suggest some of my ideas. First of all, free energy for everybody. Free food through permaculture. Free drinking water for everybody. Free public transport, funded by the government.
"And we must rescue our national health system and look after our grandparents as well, because the way we treat the pensioners is fucking disgusting. There are many, many crimes being committed against us."
He described the Reality Party as a 'party for the people', standing up for real democracy, and representing a genuine alternative to current British politics.
He said: "All the people who don't go to the ballot box, our kids, they've got nothing to vote for, but they have now, because we've got to save our planet from these terrible people.
"They are the true criminals, and we are the good honest people who get blamed for all the shit going on. But we're not having it any more."
It has been a whirlwind few weeks for the movement, with Bez announcing on March 14 that he intended to challenge for Salford and Eccles in the 2015 general election.
He joined an anti-fracking protest at Barton Moss the next day, and momentum has built from there, with the Reality Party Facebook page currently having over 18,600 likes. (https://www.facebook.com/pages/The-Reality-Party/260652347449598)
Issues covered by the Facebook page have ranged from fracking to food banks and the bedroom tax to bee welfare.
Earlier this month it was announced that Jackie Anderson would be representing the Reality Party in running in the Irlam ward in the council elections in May.
At the launch event, Anderson said: "I'm blown away to be the first candidate for this party.
"What the Reality Party has done for educating people and bonding them together has been phenomenal, and I want that to be spread right across the country."
She said that the Barton Moss fracking project had been 'a tipping point' for the movement, but also that it was symbolic of the other wrongs currently being committed.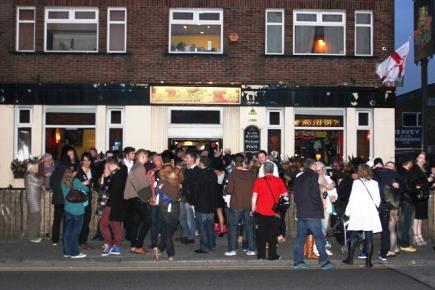 CROWDED HOUSE: Public turnout at Wangies pub on Liverpool Road for the Reality Party's launch
"The population out there is suffering," she said.
"People have nowhere to go, and so they're coming to the Reality Party."
MM also spoke to Jon Bamborough, who is working behind the scenes for the party, having gained experience in the practicalities of politics during 30 years with the Liberal Democrats.
"I've just had enough with the mainstream parties," Mr Bamborough said.
"I was chatting with Bez, and we decided to start a party as opposed to him just standing as an independent. We thought we'd put the idea out there to see if there's any interest, and there is.
"For a little pub in Eccles this isn't a bad turnout, I guarantee there's more people have come to this than most national party launches – I know because I've been at them."
He added that they have not had a great deal of time to prepare for the forthcoming council elections, and they did not expect to win, but they were determined to give it their best shot.
Mr Bamborough said: "There'll be lots of door-knocking, lots of meeting people, because we believe it's the connection with people that's going to set our party apart from the others.
"We don't want to be remote like the others, we want to get our candidates out there, pressing the flesh, talking to people and listening, which is something that doesn't really happen."
He also said that they had around 130 people who were prepared to make the commitment to stand for the party nationally.
"We've got a very busy year ahead, as most of those candidates won't have political experience, which is a great advantage but we also need to ensure they're aware of their legal responsibilities.
"We are essentially going to be a bunch of independents with some central themes, we're not going to be dogmatic about policy."
The launch event appeared to go down well with those who attended. Carer Luke Connelly, 20, from Pendlebury, Salford, said: "Bez did well tonight, I think he inspired a lot of people.
"I think it's brilliant when they say they stand up for real people. That's the problem with politics, everyone's the same.
"Ed Milliband isn't really Labour, he doesn't represent us. And Labour has had power in Salford seat for over 60 years – that's not democracy."
Meanwhile Fiona, 40, from Manchester city centre, said: "I did environmental science at university and I work with homeless people, so they're my motivations for coming here.
"The Conservatives are screwing this country up, environmentally and they're hitting the most vulnerable people.
"I really hope this party can go a long way and get people in Parliament, I'd love to see that."