Anti-Semitic attacks on members of Manchester's Jewish community have increased by 38%, according to the Community Security Trust's (CST) mid-year report.
This rise of reports of 'vile, wrong and totally unacceptable' abuse of Jewish people mirrors an escalation across the whole country – with incidents up 53% nationally.
CST, a charity that monitors antisemitism and provides security for the Jewish community in Britain, recorded 473 anti-Semitic incidents in the UK from January to June 2015.
Manchester had the second most reported incidents, accounting for 135 of the religious attacks, while London had the most at 224.
Just a few months ago a journalist posted a video online of the 'sickening' anti-Semitic abuse he was subjected to within minutes of arriving in Manchester.
Greater Manchester Police and Crime Commissioner Tony Lloyd has called on the community to stand together in the face of these 'abhorrent' incidents that 'mar' the city with hatred.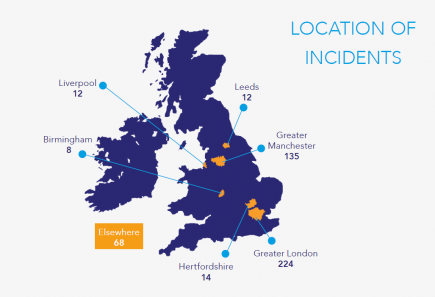 He said: "I am pleased to see more people coming forward to report these incidents, confident that the police will listen to them and take them seriously. But behind these figures lie some abhorrent incidents and assaults.
"Hate crimes and ignorant attitudes must not be tolerated. To target someone because of who they are or what they believe is odious to any right-thinking individual.
"Greater Manchester is a wonderfully diverse region and I am confident that most of us revel in the wealth of culture that steeps our towns and cities.
"We are living in difficult times, marred by much violence and hatred – both in this country and abroad. But I urge people to stand firm, undivided in the face of extremism and ignorance. We stand together."
Communities Minister Baroness Williams of Trafford said these hate crimes completely defy British values but also acknowledged the positive sign of more victims coming forward.
She said: "Antisemitism and hate crimes of any sort are not only vile, wrong and totally unacceptable in our society, but they are also an affront to the British values that we hold dear.
"Whilst one anti-Semitic incident is one too many, it is positive that members of the Jewish community now feel more able to speak out against these pernicious crimes knowing that their government will hear their voice and act decisively to protect them.
"This valuable information will support our work with partners like the CST and the police to protect the Jewish community and help to eradicate antisemitism in Britain."
CST Chief Executive David Delew echoed Baroness Williams' sentiment that more people reporting antisemitism is a step forward.
However, he explained that even more people coming forward is not entirely positive as it suggests an atmosphere of 'anxiety' following the terrorist attacks in Europe earlier this year.
He said: "The terrorist attacks on European Jews earlier this year, following the high levels of antisemitism in 2014, were a difficult and unsettling experience for our Jewish community.
"We welcome the apparent increase in reporting of anti-Semitic incidents but regret the concern and anxiety about antisemitism that this reflects.
"We will continue to work with the police, government and other partners to reduce antisemitism and to protect our Jewish community."
Around the UK there have been 178 incidents in which the victims were random Jewish individuals in public.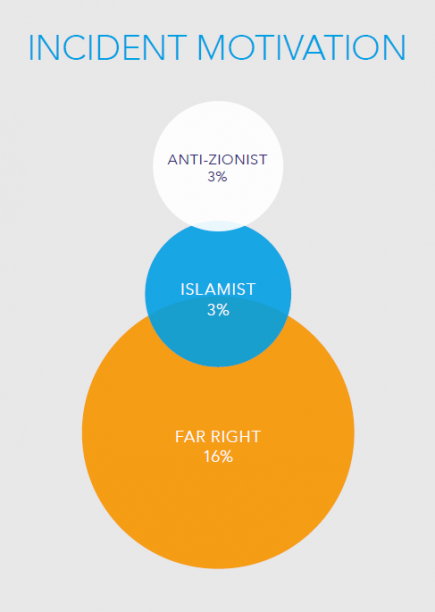 And in at least 66 of these incidents, the victims were visibly identifiable as Jewish due to religious or traditional clothing, Jewish school uniforms or jewellery bearing religious symbols.
This combination of random, spontaneous anti-Semitic abuse directed at visibly Jewish people in public was the most common single type of antisemitism recorded during the first half of this year.
Greater Manchester Police's Assistant Chief Constable Garry Shewan said: "We will absolutely not tolerate anti-Semitism, or any racial or religious hatred, on the streets of our city.
"Greater Manchester has a long and proud tradition of celebrating diversity and is lucky to have a vibrant, multi-faith population as a result.
"I urge the communities within Greater Manchester to stand together as one and show a united front against the hatred and intolerance which looks to tear apart the cohesion we have built through hard work, trust and understanding."
It is clear from comments following the release of CST's report today that there is certainly a 'united front' in Manchester, if not least of all between the charity and officials.
ACC Shewan said he believes this unity, which GMP is determined to continue in the fight against hate crime, has contributed to people feeling 'confident' that if they report antisemitism it will be taken seriously.
"Once again we see the national rise in anti-Semitic incidents and crimes being mirrored on the streets of Greater Manchester," he said.
"But while the international picture – typified by the terrorist atrocities in Europe at the start of the year – of increasing hostility and tension towards the Jewish community is no doubt having an influence in the UK, it is not the only contributory factor.
"What I believe we are seeing in this 38% rise in reports is actually increasing confidence within our Jewish communities that Greater Manchester Police, working alongside the Community Safety Trust (CST), will take all reports of hate crime seriously."
He urged the community to continue to work with both the police and CST, stating that the only way GMP can end hate crime is if they are made aware of it.
He said: "We can only look to end anti-Semitism if we are made aware when it occurs. That is why it is so important, if you have been subject to abuse, intimidation or criminality, to report these incidents so we can investigate and bring the perpetrators to justice.
"We work alongside the CST all year round to ensure our Jewish communities are able to live their lives without encountering hatred or ridicule, and that includes maintaining increased patrols and a dialogue with Jewish community leaders to ensure we are appropriately tackling the issues which cause them concern."
However, it is not just incident of antisemitism on the streets of Manchester and, indeed, the UK that are on the rise but abuse on social media has also increased.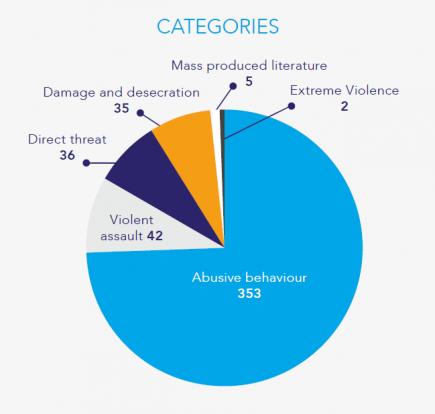 CST recorded 88 incidents that involved the use of social media to transmit anti-Semitic threats or abuse, compared to 55 such incidents in the first half of 2014.
Baroness Williams said: "Hate expressed online can often lead to real-world violence and what's more repeated exposure, if left alone, can lead to an acceptance of extreme views.
"That's why this government is determined to find ways to challenge and confront this online hate, to educate people about why it's so corrosive, and to encourage people to speak out when they see it."
CST has recorded anti-Semitic incidents since 1984.
The highest total the charity has ever recorded for the January to June period was 629 incidents in the first half of 2009 but 2014 saw the highest ever total recorded by CST for a full calendar year, when 1,174 Anti-Semitic hate crimes were recorded.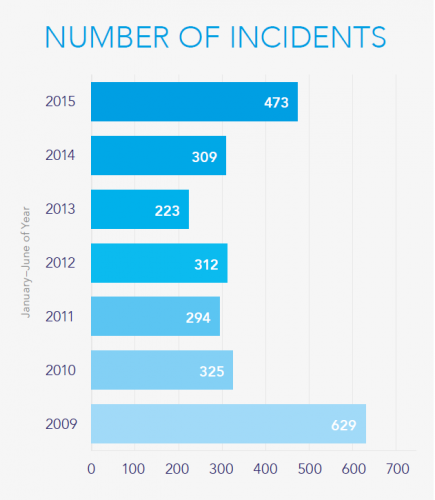 Home Secretary Theresa May said: "Antisemitism has absolutely no place in Britain, and we must do everything we can to eradicate it wherever we find it.
"I welcome the work of the CST in recording and publishing anti-Semitic incident reports, and it is encouraging that more people are coming forward as the under-reporting of hate crime is a real issue.
"This government is determined to work in partnership with communities across the country and we will publish a counter-extremism strategy to protect citizens and communities, promote our shared values and to defeat extremism in all its forms.
"We are also working closely with the police, the CST and other Jewish community organisations to defeat antisemitism and we already have one of the strongest legislative frameworks in the world to protect people from hostility, violence and bigotry.
"We are making sure that those laws are robustly enforced and that victims feel confident about coming forward.
"I know that many Jewish people in this country are concerned about safety in their community, and we are listening.
"Those who seek to spread anti-Semitic hatred should know that the government will act against all those who seek to divide our country and sow discord."
CST defines an anti-Semitic incident as any malicious act aimed at Jewish people, organisations or property, which shows evidence of anti-Semitic motivation, language or targeting.
If you see or hear something that you are concerned could be terrorist related, call the Anti-Terrorist Hotline on 0800 789 321.
If you believe you are a victim of, or witness to, a hate crime please report it to the police by calling 101, 999 in an emergency, or via the dedicated crime reporting website www.report-it.org.uk
Main image courtesy of Ernst Moeksis, with thanks.