A dog was rescued by Manchester firefighters last night, after getting its head stuck in an electric reclining armchair in Salford.
Cagney, a seven-year-old female Lhasa Apso, became stuck at around 9pm on Thursday night and was rescued after her owner Lyn Kirkwood called for help.
Greater Manchester Fire and Rescue Service and the RSPCA arrived shortly after, and the former dismantled the chair allowing Cagney to free herself and make a full recovery.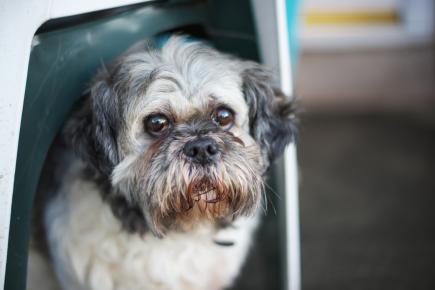 HORRENDOUS: Seven-year-old Cagney had an evening to forget
"It was horrendous," said Mrs Kirkwood of Tennyson Road, Swinton.
"My husband's carer came round and she usually barks, but she was quiet.
"I looked in all the rooms and couldn't find her anywhere, then all of a sudden I heard a whimper and we found her stuck in the chair.
"We called the fire service and the RSPCA, and we had three firefighters with tools trying to get her out. When they freed her she just walked off as if nothing had happened."
Cagney was stuck for around an hour in total, but walked away from the incident unharmed thanks to the prompt action of the fire service and the care of the RSPCA officer.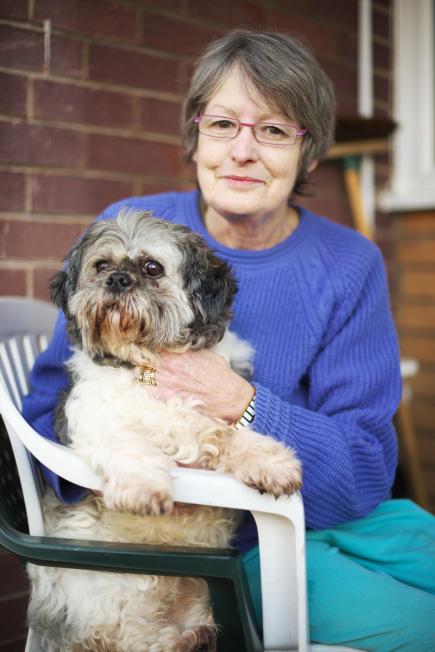 UNFAZED: Cagney recovered swiftly, but owner Mrs Kirkwood was shook up by her pet's misadventure
"The dog had managed to get herself well and truly wedged in the chair," said Animal Welfare Officer David Hatton.
"She was stuck head first in the mechanism, with just her back legs sticking out."
"The fire service were brilliant. They were able to dismantle the metal frame until she could free herself.
"It was a careful process, but luckily we were able to get her out uninjured.
"She seemed pretty unfazed by the whole thing, she just wandered off for a drink and came and sat by her owner. It was definitely a first for us though!"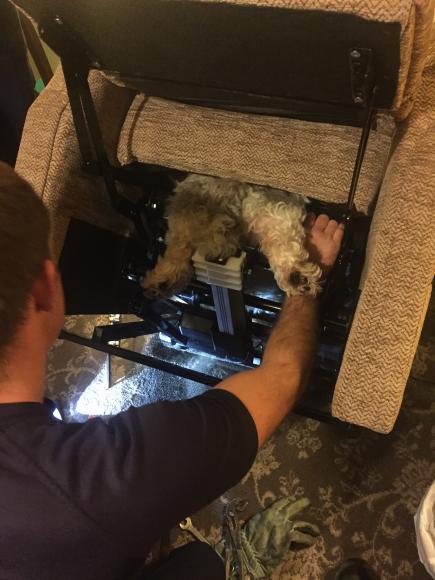 IN A JAM: Here's that picture one more time just for some more laughs… I mean 'aww's