Domestic violence has risen monumentally across Greater Manchester over the last five years.
The monthly average across the region in 2013 was 1334 incidents, a figure which rose to 3106 in 2018.
Data obtained through the Freedom of Information Act from Greater Manchester Police shows significant spikes in crimes marked as domestic violence during the 2014 and 2018 Football World Cups.
Other sharp increases occurred in the aftermath of the general election which took place in June 2017 and following Donald Trump's victory in the US election in November 2016.
A notable dip was observed at the start of 2017, however, coinciding with the Women's Marches held worldwide.
Individual boroughs saw greater increases than others, with the average monthly rate of domestic violence crimes in Salford more than tripling from 95 in 2013 to 336 in 2018.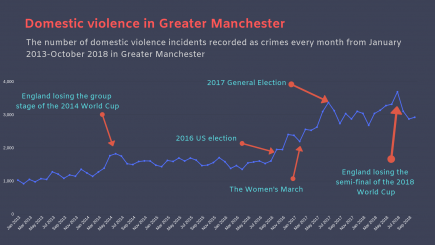 However, while Salford saw a jump in the number of cases overall, it is one of the safest boroughs with only nine cases per 1000 residents each year on average.
Trafford and Stockport were the only areas to come out safer, with six and seven cases per 1000 residents respectively.
Oldham and Rochdale topped the list with 12 recorded domestic violence crimes per 1000 residents each year, followed by the City of Manchester, Bolton, and Tameside with 11.
Greater Manchester Police recently launched their #SittingRightWithYou campaign to educate people about the signs of domestic abuse and where to report any suspicions or experiences.
More information can be found on http://www.sittingrightwithyou.co.uk.