Many critics have accused Cristiano Ronaldo of being more of a hindrance than a help to Manchester United this season – and a key statistic may appear to prove them right.
The 36-year-old hit nine goals in 14 games under Ole Gunnar Solskjaer before scoring the opener in interim-manager Michael Carrick's first game; a 2-0 win at Valencia on Tuesday.
But the appointment of Ralph Rangnick looks set to shine the spotlight once again on Ronaldo's refusal to press from the front.
The German manager is renowned for his aggressive form of counter-pressing – also known as 'Gegenpressing' – which he pioneered in the 1980's, paving the way for the likes of Jurgen Klopp, Thomas Tuchel and Julien Nagelsmann.
And with the 63-year-old at the helm, it's hard to see where Manchester United's talisman will fit, especially considering his woeful pressing statistics.
Over the opening 12 games of this season, the former Juventus and Real Madrid forward has averaged just 4.76 pressures per 90 minutes – the lowest of all forwards in the Premier League who have played more than 500 minutes and in the bottom 1% of forwards across Europe's top-five leagues.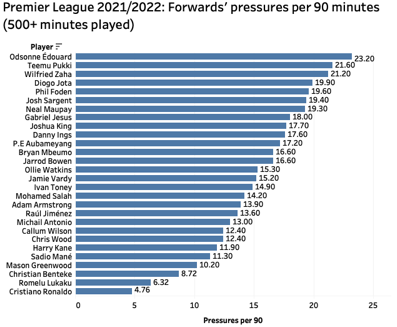 This statistic should be no surprise to the new manager. For Juventus last season he was in the bottom 2% across Europe for pressures per 90 minutes, and in the three campaigns before that – two for Juventus and his final season at Real Madrid – he was back in the bottom 1%.
In the three harrowing defeats to Liverpool, Manchester City and Watford, Ronaldo played a total of 270 minutes and completed five successful pressures combined – for comparison, Bruno Fernandes made 10 successful pressures in 241 minutes despite also being horribly out of form.
In addition, a successful pressure percentage of just 20.5% is the third lowest in the league (again, for forwards with more than 500 minutes) – essentially painting a picture of a striker who presses very rarely and, on the occasion he does, fails to do so effectively.
For comparison again, Edison Cavani averages 13.3 pressures per 90 at a success rate of 37.5%, while the only Manchester United player with less successful pressures per 90 than Ronaldo is David De Gea.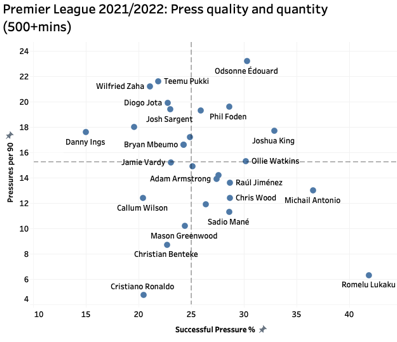 The effect on the team has been profound, with Manchester united as a team now averaging just 34.8 successful pressures per 90, which is the second lowest in the league and some way short of last season's average of 39.2, while pressure attempts in the attacking third have dropped from 35.3 to 27.3.
And, while not the only cause, the need for the likes of Bruno Fernandes, Mason Greenwood, and Jadon Sancho to cover their teammates' deficiencies has undoubtebly affected their own form.
Bruno Fernandes is without a goal in 14 games for the club, while Mason Greenwood (one goal in 11 and without a start since the 10th October) and Jadon Sancho (who scored his first goal on Tuesday after nine goalless appearances) are also struggling.
Edison Cavani – who was promised a prominent role in the team during the summer before the signing of Ronaldo – had started only twice and scored just one goal this season.
Balancing the guarantee of goals with the problems that arise from an ageing forward proved too big a task for Solskjaer. He relied too heavily on Ronaldo's goals and the rest of the team suffered as a consequence.
Whether Rangnick can get the best out of the four-time Ballon d'Or winner only time will tell, but the fact is that someone will have to compromise.
It will be an intriguing watch to see how it unfolds.